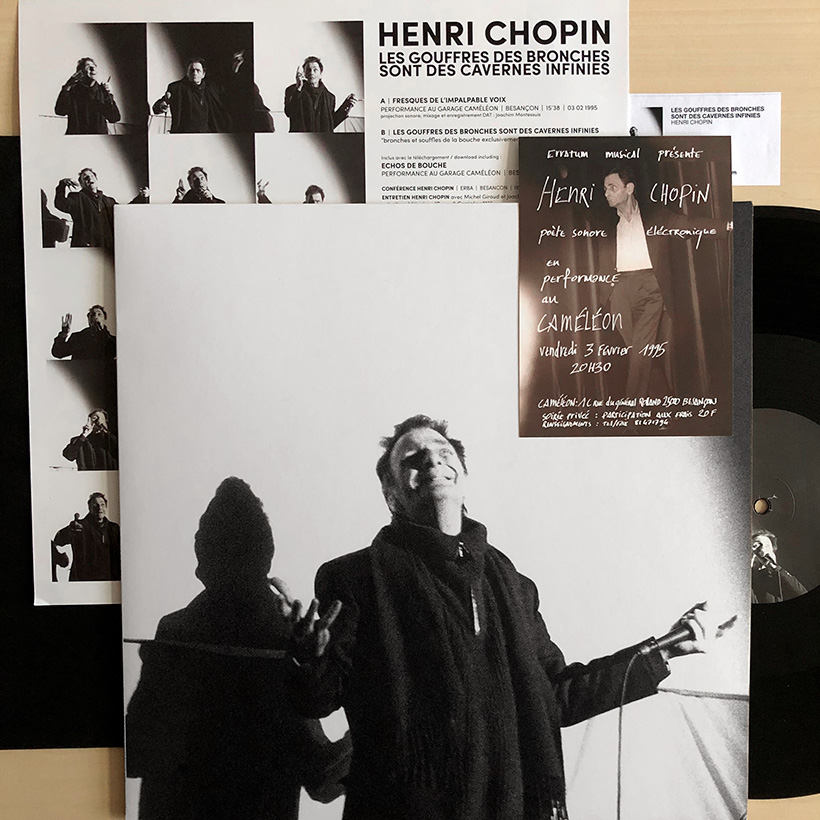 New Henri Chopin LP released on Erratum Musical, 2022.
Henri Chopin – Les gouffres des bronches sont des cavernes infinies
At the invitation of Michel Giroud, Joachim Montessuis, Yvan Etienne and Masahiro Handa Henri Chopin performed in Besançon, France in 1995. The contact between Montessuis and Chopin that was established at that performance later resulted in the CD La danse des tonneaux roulants et brisés, released on Montessuis's Erratum Musical label in 2004. The LP Les gouffres des bronches sont des cavernes infinies contains one of the compositions performed at Besançon at the time and another that was aired on France Culture radio in 2013. The LP was released by Erratum Musical in 2022 to commemorate the fact that Chopin's was born 100 years ago. The LP has a 15-minute composition on either side and comes with a download code to Chopin's 1995 performance in Besançon, an interview of Chopin by Michel Giroud and Joachim Montessuis the day after that performance and the Henri Chopin conference that was held the day before the performance. Also included in the sleeve are the handbill to the 1995 Besançon performance and an insert with liner notes and with photos by Richard Bugner.