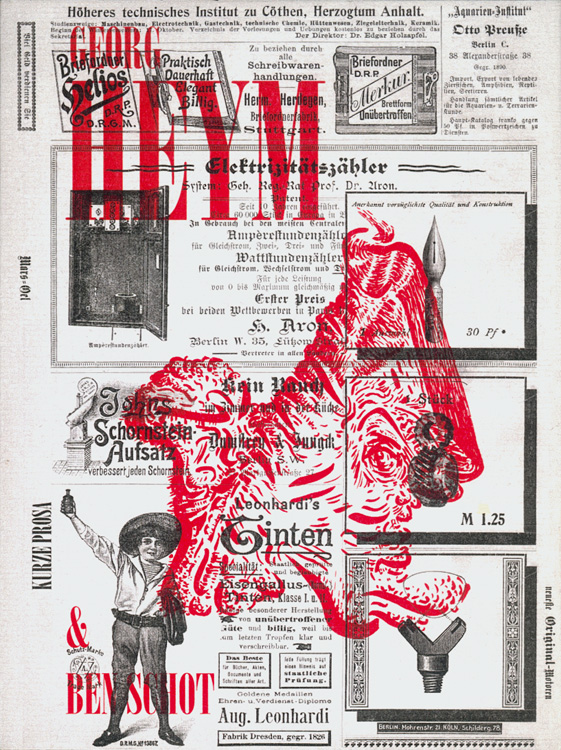 'Of dit boek enige weerklank zal vinden betwijfel ik ondanks het vriendelijke (onleesbaar woord). Want het is niet voor een tijd geschreven die charlatans voor dichters houdt, die onder elkaar een verzekering op wederzijdse welwillendheid hebben afgesloten', schrijft Georg Heym in het voorwoord van het boek Kurze Prosa uitgegeven door Moloko Print. Heym was een Duitse schrijver van proza, toneelstukken en gedichten die weliswaar op jonge leeftijd stierf maar toch van aanzienlijk invloed op degenen na hem was. Hij wordt gezien als de wegbereider van het literaire expressionisme.
De verhalen in Kurze Prosa zijn lyrisch, absurd en fantastisch. Heym voert je een wereld binnen die fel, rauw en zonder logica is. Alles kan gebeuren. In zijn sterfjaar bestond het surrealisme nog niet, maar Heyms teksten kondigen al de komst van die verbeelding van het onderbewuste aan. Beeldend kunstenaar en uitgever Ben Schot maakte tekeningen bij de verhalen en prozafragmenten in het boek. Misschien is zijn werk behulpzaam bij het antwoord op de vraag of de teksten expressionisme, dada of surrealistisch zijn. We zien op zijn tekeningen hele maar meestal halve wezens. Delen van organisch materiaal dat behaard is en gestreept lijkt. Soms kijken die onbenoembare schepsels de lezer aan. De tekeningen zijn geen illustraties maar eerder een apart hoofdstuk bij deze droomachtige maar evengoed voorstelbare werelden van George Heym.
Kurze Prosa is uitgegeven door Uitgeverij Moloko Print, distributie door Sea Urchin.
Bron: Beurs van Bijzondere Uitgevers (Philipine van Hee, 25.10.2017)