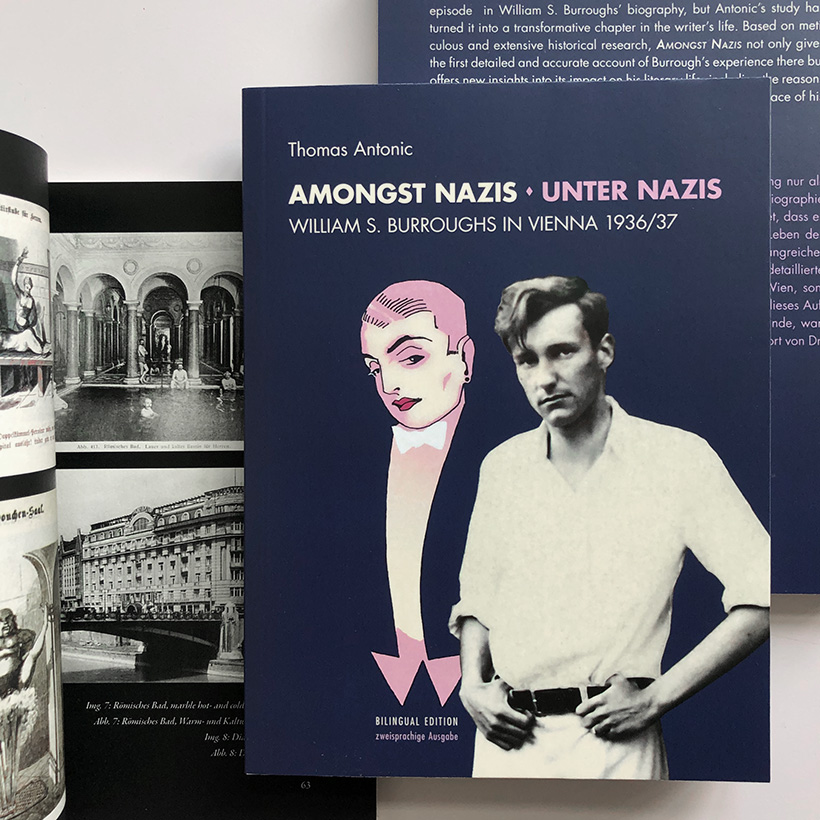 New in our catalogue:
Thomas Antonic – Amongst Nazis / Unter Nazis (William S. Burroughs in Vienna 1936/37)
(bilingual edition published by Moloko Print, 2020)
Thomas Antonic's essay Amongst Nazis (Unter Nazis) is an expanded version of his lecture Dr. Benway meets Dr. Pernkopf: Burroughs and the Nazi Doctors in Vienna 1936/37 held on 4 October 2018 in Vienna as part of the seventh annual conference of the European Beat Studies Network. Moloko Plus has now published this essay in both English and German. Complete with illustrations, footnotes, introductions and postscripts in both languages this edition has not only turned into a thorough study of Burroughs's stay in Vienna but also into a beautifully designed edition in the hands of Kai Pohl.
In the blurb on the cover of the book Beat scholar and Professor of American Literature Oliver Harris writes: "His mid-1930s visit to Vienna has always seemed a brief but colourful episode in William S. Burroughs' biography, but Antonic's study has turned it into a transformative chapter in the writer's life. Based on meticulous and extensive historical research, Amongst Nazis not only gives the first detailed and accurate account of Burroughs' experience there but offers new insights into its impact on his literary life, including the reasons why the city where Burroughs studied medicine was the birthplace of his most notorious character, Dr. Benway."