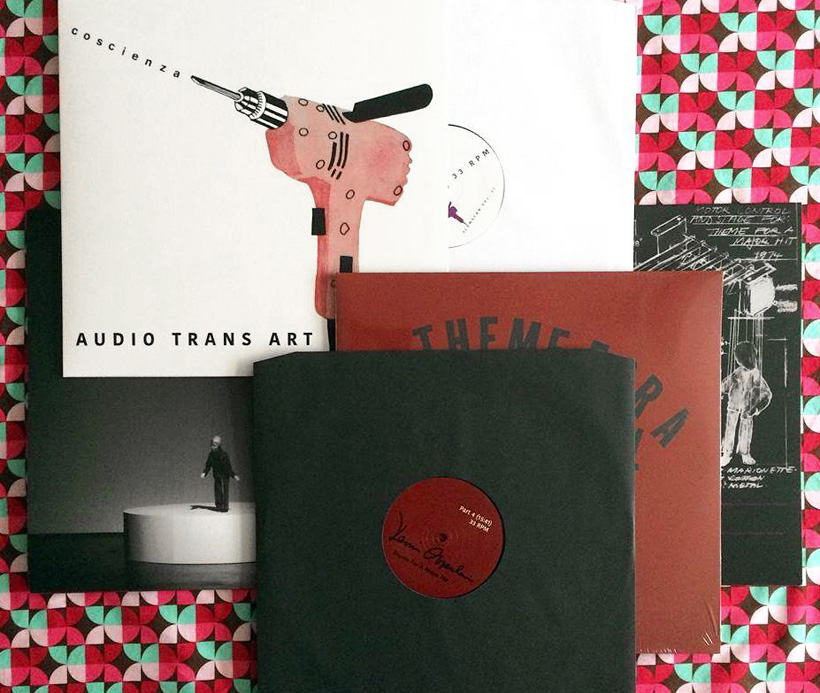 New in our catalogue: two great new Slowscan releases: Dennis Oppenheim – Theme For A Major Hit and Audio Trans Art, vol. 1.
Theme For A Major Hit is the title of a piece that Dennis Oppenheim produced in 1974. It consists of a motor driven marionette on a circular stage, a spotlight and a 2-hour soundtrack. The soundtrack to this installation, a psychedelic freestyle jam by Oppenheim and friends, was recorded at Angel Sound, New York in 1974. From the recordings of this high-spirited and joyous session with the line "It aint what you make, its what makes you do it" for a recurrent theme, a handful of LPs were privately pressed in 1975. One of those signed 12″s is in Jan van Toorn's unparalleled collection of artists' records. With the kind permission of the Dennis Oppenheim Estate this LP has now been re-released on vinyl on Van Toorn's own Slowscan label.
Audio Trans Art vol. 1 is a stunning compilation of sound poetry, musique concrète and electronic music. The double LP covers a wide range of experimental music and poetry in a well-balanced mix of prominent artists and composers of the avant-garde (such as Ferdinand Kriwet, Henri Chopin, Julien Blaine, Milan Knizak and Richard Maxfield) and lesser known artists such as Charles Dreyfus and Diana Spodorek. Highlights of this expert choice of rare recordings by Slowscan's Jan van Toorn are Ferdinand Kriwet's 'Sehtexte No. 14' and Richard Maxfield's 7:14 minute long untitled piece of electronic music. Limited edition of 250. Cover art by Flemish artist and poet Paul de Vree (collection Jan van Toorn).