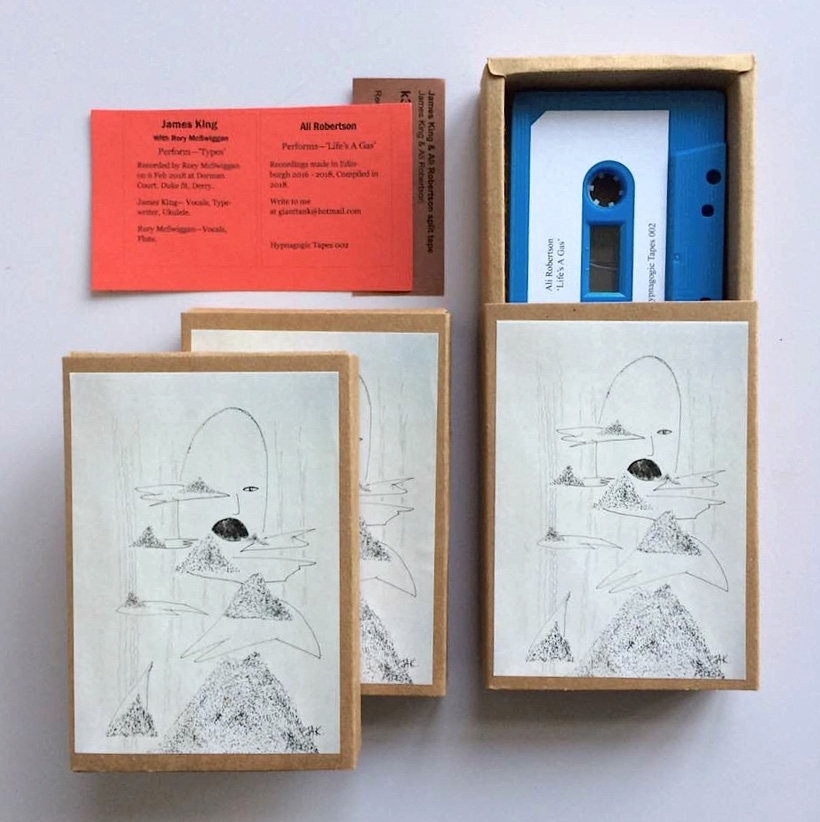 New in our catalogue:
Hypnagogic #002 is a split C-40 cassette of performance artists James King on one side and Ali Robertson on the other. James King is an artist from Northern Ireland and Ali Robertson an artist and noise musician from Scotland.
Side A of the cassette contains James King's performance 'Types' with Rory McSwiggan, a piece of sound poetry recorded in Derry in February 2018. The improvised duet with McSwiggan centres on the artists' command of their voices, sometimes accompanied by the sound of a typewriter, ukulele or flute. The duet varies in atmosphere from wild fairy tales to eerie chants and rhythmic, at times violent, typewriting.
Side B of the cassette has been put together from Ali Robertson recordings from 2016-2018. The sound poetry collage is called 'Life's A Gas'. "Doctor, doctor I'm a free improviser", Robertson explains during an absurd phone call during the performance, only to end his noisy and multi-layered sound collage later on with 'The other person has hung up' in a thick Scottish accent. Sellavy, Rrose.