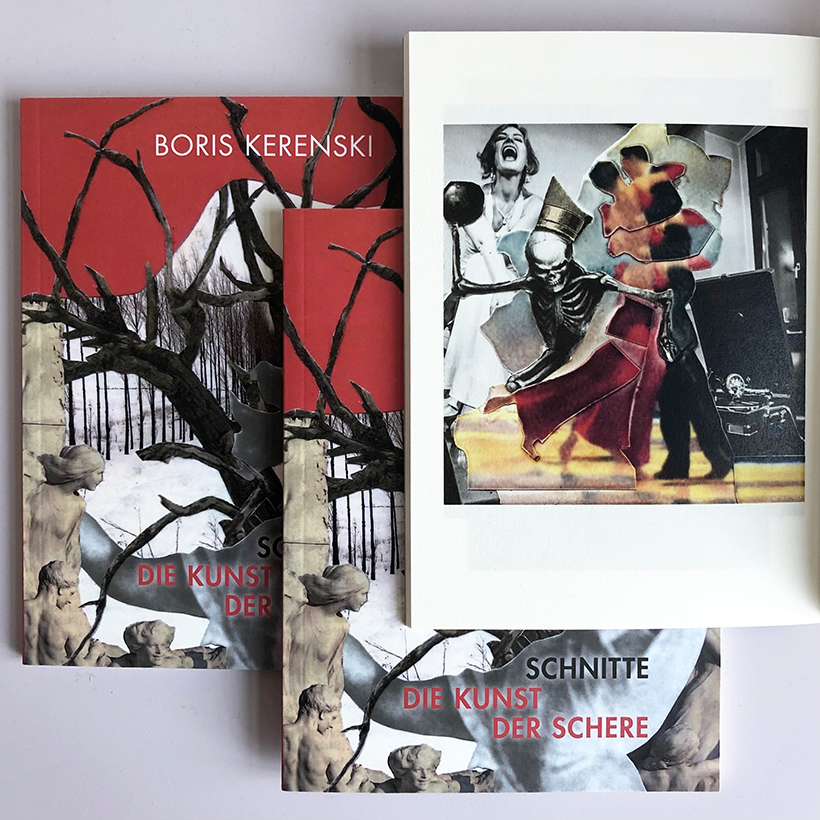 New in our catalogue:
Boris Kerenski – Schnitte – Die Kunst der Schere
Boris Kerenski was born in Stuttgart in 1971 and studied art there at the Staatliche Akademie der Bildende Künste under the supervision of Dieter Groß, Hans Dieter Huber and Joan Jonas. He worked for presses, did advertising, taught at Literaturhaus Stuttgart, was an editor for various printing and online media and teaches art at a secondary school. His artistic output comprises collages, literary texts and editing anthologies or catalogues.
Kerenski's Schnitte – Die Kunst der Schere was published by Moloko Plus in 2020. The book contains collages by Kerenski that follow Max Ernst's dictum "the collage technique is the systematic exploitation of the coincidental or artificially provoked meeting of two or more alien realities on an apparently unsuitable level – and the spark of poetry that leaps when these realities approach one another". Kerenski's collages and reworking of images on the one hand deconstruct the printed matter that they were culled from and on the other open vistas of poetic and slightly melancholic worlds. The book contains texts by Kerenski himself as well as by artist Gerhard van der Grinten, art historian Annette Schmidt and a joint text by Kerenski and fellow-artist Marvin Chlada. Order →