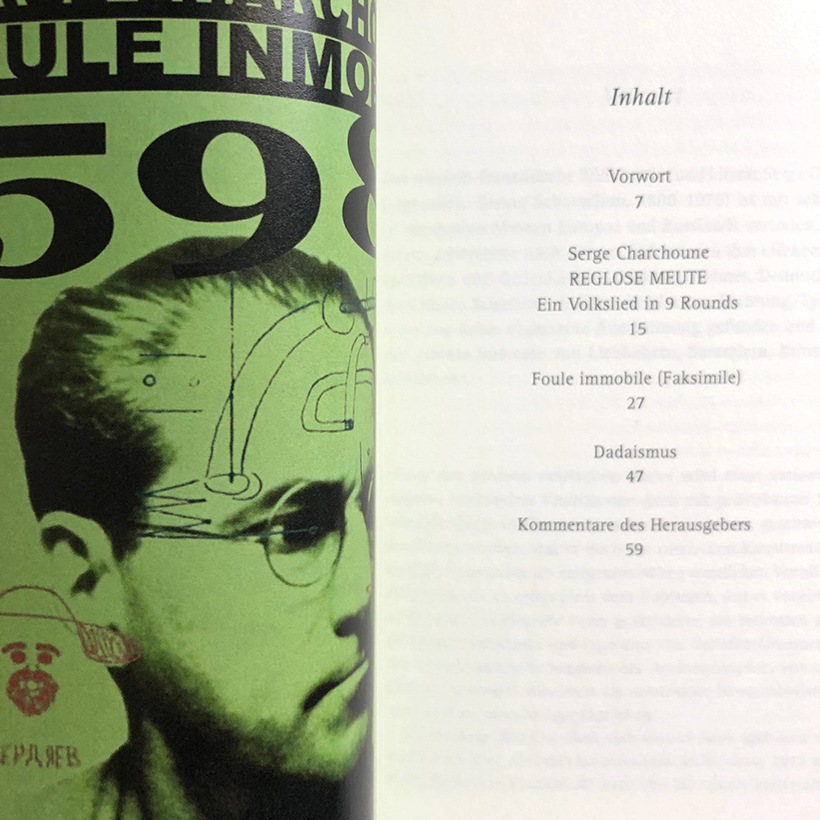 New in our Moloko Print catalogue:
Sèrge Charchoune – Foule immobile
Visual artist and author Serge Charchoune (Sergey Scharshun) was born in Russia in 1888 but lived most of his life in France, where he died in 1975. Charchoune fled to Paris when he deserted from the Russian army in 1912. After initially having become involved in Cubism in Paris, his attention turned to Dadaism when he got in touch with André Breton, Max Ernst, Tristan Tzara and Francis Picabia after his return from Barcelona, where he had sought refuge from World War I. The foundation of his own Dada faction in Paris failed miserably, however, and Charchoune's most important contribution to Dada remains his poem Foule immobile, translated from Russian into French with the help of Philippe Soupault. Foule immobile is a dadaist anthem in 9 rounds for 25 voices. According to Felix Philipp Ingold's introduction the polyphonic piece resembles early surrealist cadavre exquis experiments. Illustrated by Charchoune himself, the piece appeared in print in 1921 but, despite the fact that it was meant to be sung, was never performed. In 1922 Charchoune travelled to Berlin with the intention to return to Russia. In the German capital he founded his own Dada cell, had an exposition at Herwarth Walden's Der Sturm gallery, met fellow-artists Theo van Doesburg and El Lissitzky but does not appear to have been in touch with the radical Berlin dadaists of the period. Repelled by stories of the horrors of the Russian Revolution, he decided to return to Paris in 1923. There he followed his own artistic path, inspired by Dadaism, Surrealism and Constructivism and published some forty books between 1924 and 1975, the year of his death.
Foule immobile has now been published facsimile by Moloko Plus with an additional first German translation and a translation of Charcoune's essay Dadaism, written and published in 1922 during his stay in Berlin to inspire the large number of Russian ex-pats living there at the time. Together they make another fine Moloko Plus edition, now also available via Sea Urchin. "Sing ye brothers and end this miserable thing", as the late Captain Beefheart would recommend. Order now →