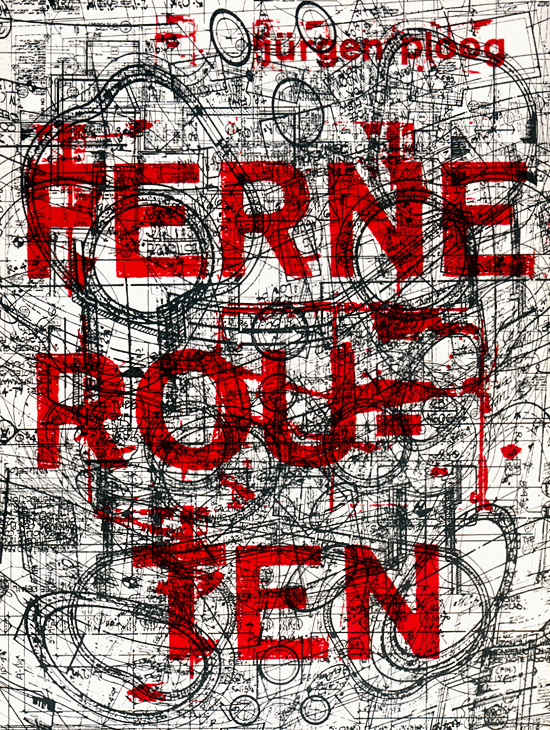 German writer Jürgen Ploog (München, 1935) used to work as an airline pilot for 33 years. Transience and the crossing of borders have since been integral to his existence and writings. Ploog's early literary output gravitated naturally to the cut-up method that William Burroughs and Brion Gysin popularised in the 1960s. His early experiments at cut-ups were published in the satirical magazine 'Der Metzger' and in the German Beat magazine 'Gasolin 23', which Ploog founded with Carl Weissner and Jörg Fauser in 1971. Since then the cut-up technique has remained an essential component of Ploog's prose, at first prominently present – like in his hardcore cut-up novels 'Cola-Hinterland' (1969) and 'Die Fickmaschine' (1970) – and later subdued and overlain by loose episodical structures. 'Pacific Boulevard' (1977) and 'Nächte in Amnesien' (1980) are examples of those later logbook-like works.
'Ferne Routen', published from Schönebeck by Moloko Print, is a compilation of fragments written over the years with Ploog's alter ego Eddie Grips as a main character. Grips is an anti-hero, a lonely drifter in a cut-up landscape where space and time have defected to non-linear troops. The sands are constantly shifting. The command structures have broken down. Grips is our agent in this unhinged universe. His detached observations from Entropolis trickle in like marrow from the broken ribs of language.
Ploog's 'Grips Fragments' collected in 'Ferne Routen' are combined with equally alienating collages by Walter Hartmann, who used to edit 'Gasolin 23' with Ploog in the 1970s and 1980s. The book is a new and strong collaboration of two seasoned and expert cut-up artists, beautifully packaged by Robert Schalinski. Read more.