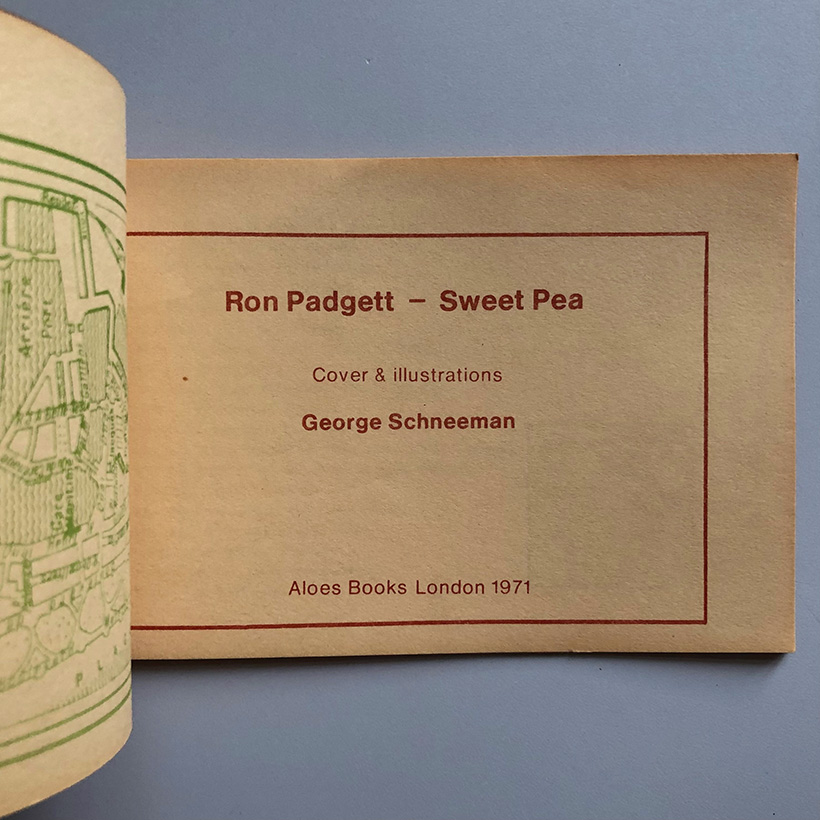 New in our Collectible catalogue:

Ron Padgett – Sweet Pea
Born in Tulsa, Oklahoma in 1942, Ron Padgett started writing poetry at an early age and developed an interest in visual arts in high school. Together with fellow high school students Joe Brainard and Dick Gallup, Padgett founded 'The White Dove Review', publishing works by Allen Ginsberg, Jack Kerouac, LeRoi Jones and other Beat and Black Mountain poets. Soon after he had moved to New York City in 1960 to follow in Ginsberg's and Kerouac's footsteps and study at Columbia College, Padgett became influenced by the New York School. He studied modern French poetry on a Fulbright Fellowship after having received his B.A. in 1964 and having followed a course in creative writing at Wagner College on Staten Island. In 1972 Padgett founded 'The Poetry Project Newsletter', which he directed for two and a half years. 'Full Court Press' was another of Padgett's literary projects, for which he worked as an editor from 1973 to 1988, publishing works by Ginsberg, Brainard, O'Hara, Burroughs, Soupault and many others while at the same time lecturing and teaching at Brooklyn College and Columbia University. He authored more than twenty poetry compilations, among which Great Balls of Fire (1969), You never know (2001) and How long (2011). Padgett translated works by Blaise Cendrars, Max Jacob, Apollinaire and others from the French. Among his prose Ted: a personal Memoir of Ted Berrigan (1993) and Joe: a Memoir of Joe Brainard (2004) should be mentioned as well.
Ron Padgett's ecstatic poem Sweet Pea was published in a limited edition of 200 by Jim Pennington's Aloes Books from London in 1971. Illustrated by Padgett's friend George Schneeman this mimeographed and saddle stitched ode to the Sweet Pea is a fine example of Padgett's work of the period. This particular copy of this sought-after edition is in good condition with a superficial crease in the back cover. More →