Editor: John Michell
Publisher: privately published, Bath
Year: 1976
Size: 300 x 210 x 1 mm
Pages: 8, offset printed and unbound
Includes the green paper insert 'Support Your Local Hunt!'
Language: English
Design: Carl Wilson
Condition: good, slight yellowing of pages.

€ 45.00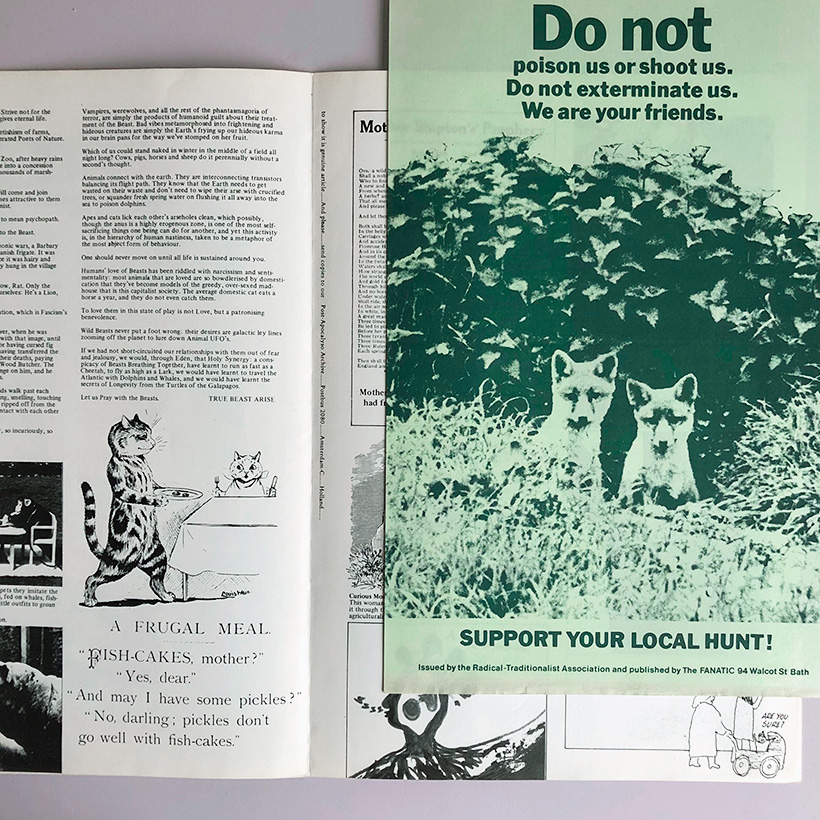 The Fanatic was a short-lived and elusive underground magazine initiated by countercultural spearheads John Michell and William Levy in the mid-1970s. The editors, who knew each other from their work for International Times, conceived a DIY magazine for anybody to compose and publish under the umbrella of The Fanatic. "Make your own Fanatic…" it says in The Fanatic No. 3, "any shape… any size… print as few or as many as you can afford… Yes, you!… Just remember to use The Fanatic logo to show it is the genuine article… And please… send copies to our Post-Apocalypso Archive… Postbus 2080… Amsterdam-C… Holland". After the first edition had been published in Bath in 1975, editions produced by various editors appeared sporadically in various languages from other locations in Europe and, once, from the US over a period of five years.
The Fanatic No. 3 – Children & Pets was published in Bath in 1976. Contributors to this zine were editor John Michell and Heathcote Williams. Inserted in this copy of The Fanatic is the pamphlet Support Your Local Hunt!, printed on green paper and issued by John Michell's Radical-Traditionalist Association. The condition of this rare copy and the insert is good with only slight yellowing of the pages.