Real Free Press was an alternative comics store and press in Amsterdam in the 1970s, run by former Provo-member Olaf Stoop (1945-1999). Between 1968 and 1974 the press published six issues of its Real Free Press Illustraties which contained – in Dutch translations by Martin Beumer – works by well-known American underground artists such as Robert Crumb, S. Clay Wilson and Will Eisner and launched the Dutch artists Peter Pontiac, Bernard 'Willem' Holtrop and Joost Swarte. Dutch translations of early 20th-century comics such as Krazy Kat and Little Nemo in Slumberland, advertisements, anarchist texts, reviews and interviews also found their way into the six Real Free Press Illustraties and the only issue of ÉHÉ-CATL (1971).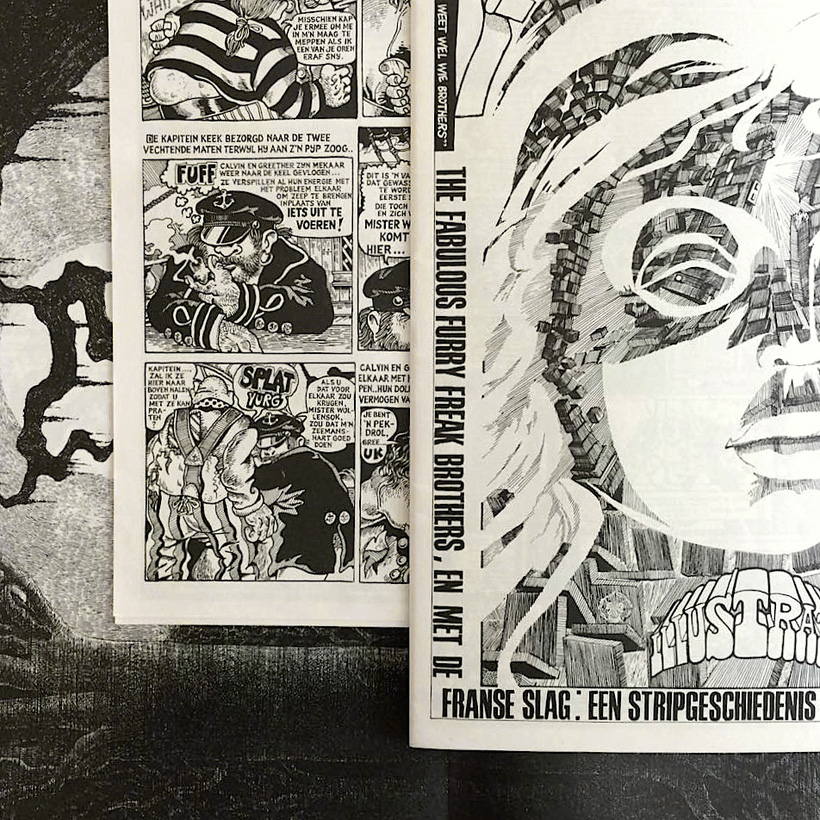 Real Free Press, with its roots in the Dutch Provos and anarchism, was a product of the Amsterdam counterculture of the 1960s and 1970s. The store was a hotbed of subversion, where imported American, British and French underground comics and records were enjoyed and changed hands. After Bill Daley's Daley News had taken over the European distribution of underground comics and magazines in Amsterdam in the mid-1970s, the role of Real Free Press steadily diminished. Olaf Stoop and Martin Beumer ceased all activities of the press and the store in 1985.
Real Free Press Illustratie No. 4 was published in 1971 and contains comics by S. Clay Wilson, a recipe for mashed potatoes à la cannabis, The Fabulous Furry Freak Brothers, advertisements of alternative stores, a manual for a Molotov cocktail and the history of anarchism, translated from the French anarchist magazine 'Pilote'. All copies in very good condition and unfolded.