Poet: Jack Spicer
Publisher: Aloes Books, London
Year: 1969, first UK edition
Size: 275 x 210 x 4 mm
Language: English
Pages: 56, mimeographed and saddle stitched
Condition: Very good. Cover has minor creases and stains. Pencil marking on flyleaf.

€ 30.00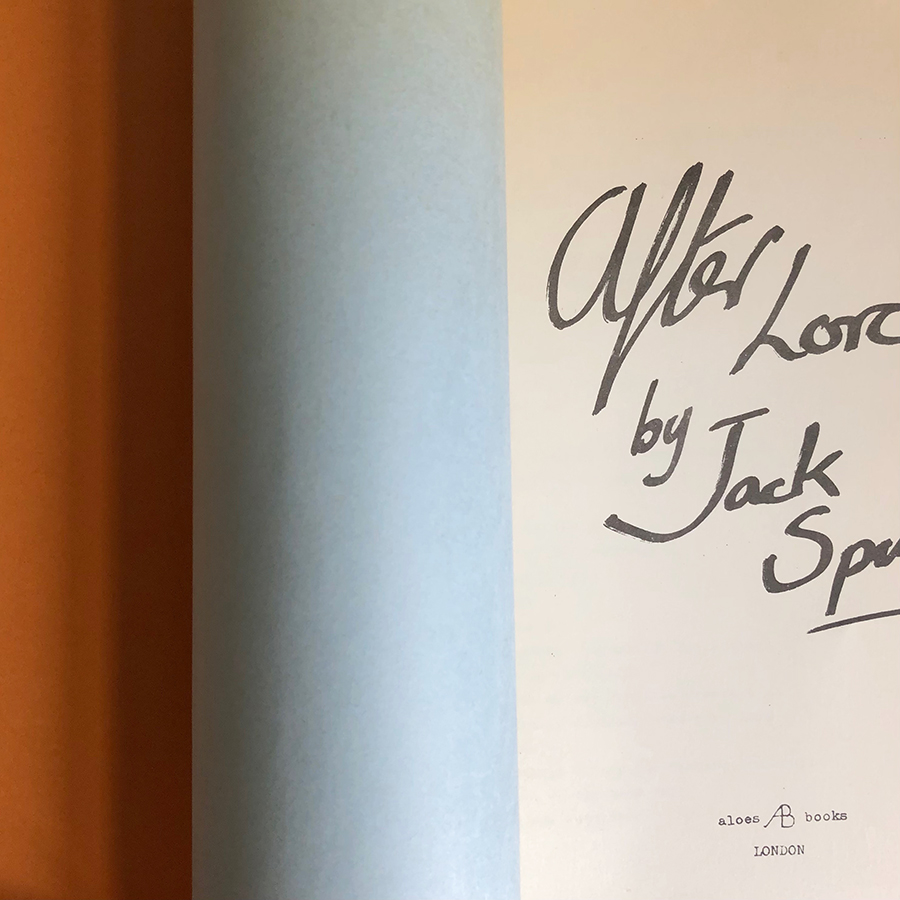 American poet Jack Spicer was born in 1925 in Los Angeles and studied at the University of Redlands from 1943 and 1945. After having worked as a movie extra and private investigator, Spicer moved to Berkeley, where he attended the University of California and started writing and publishing poetry. Together with his friends Robert Duncan and Robin Blaser, Spicer set out to create a new kind of poetry, drawing inspiration from earlier gay writers such as Lorca and Rimbaud and tapping into his studies of contemporary linguistics. Spicer co-founded the Six Gallery in San Francisco – where in 1955 the Beat Generation made their first major public appearance – and started work on his groundbreaking After Lorca the next year. Spicer often compared poets to radio receivers sensitive to messages from the spirit world and his view of poetry as being dictated from the beyond first took shape in this compilation of Lorca translations and poems dedicated to Lorca. Spicer's uncompromising attitude towards the commercial side of publishing combined with many years of heavy alcohol abuse, led to an untimely death at the age of 40 in the poverty ward of San Francisco General Hospital in 1965.
After Lorca was Jack Spicer's first book of poetry, published by White Rabbit Press in 1957. The first UK printing appeared as a mimeographed edition with Jim Pennington's Aloes Books from London in 1969. Robin Blaser's blurb to this edition says:
AFTER LORCA is then the preface to the whole of Spicer's ensuing poetry. The book proposes a relationship with Garcia Lorca and moves without warning beyond the strictly relational – translations which are not translations, poems which are not Lorca's, dependant upon a sense of the game. The challenge may be accepted to search through Lorca to know what is Lorca's, what is Spicer's, what is translated or changed, which is which, the joining. This I have done, yet would not supply the information here because it draws attention to what is essentially technicality. The book proposes, instead, the lack of separation, that one poet is the other…
This copy of the first UK printing of After Lorca is in very good condition with a slightly creased and stained cover and a pencil marking on the front flyleaf.