Artist: Ira Cohen
Publisher: Cynthia Broan Gallery, New York.
Year: Second printing, 2006
Size: 215 x 140 x 4 mm
Pages: 48, offset printed & perfect bound
Texts: Allen Graubard and Ian MacFadyen
Language: English
Design: Heather Troy/Amanda Cachia
Condition: Very good copy. Slightly bumped corner and some stains on the back cover from Ira Cohen's magenta envelope. Signed by Ira Cohen.

€ 40.00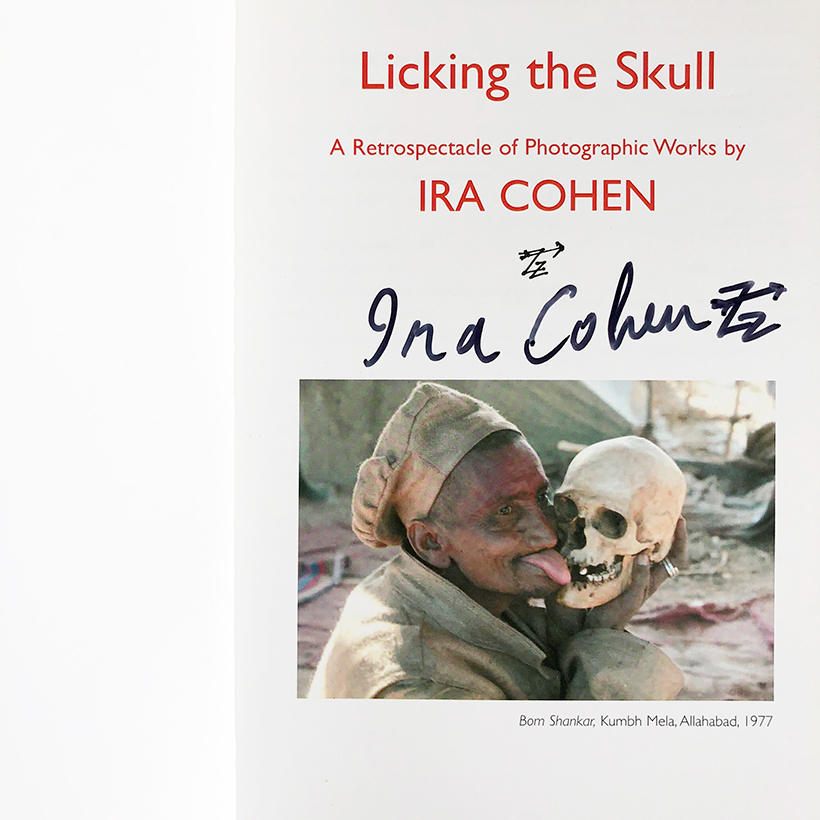 American photographer, poet and publisher Ira Cohen was born to deaf parents in the Bronx in 1935. After having dropped out of Cornell University, having married and having had two children with his wife Arlene Bond, Cohen sailed to Tangier in 1961, where he stayed for four years. In those years Cohen published his seminal Gnaoua journal with contributions by Jack Smith, Brion Gysin, William Burroughs, Harold Norse a.o. Cohen returned to the US in the mid-1960s, where he took inspiration from Bill Devore's photographic work and started his famous series of mylars, which included portraits of Jimi Hendrix, William Levy and William Burroughs. In 1968 Cohen directed his acclaimed films Invasion of Thunderbolt Pagoda and Paradise Now, documenting the Living Theatre's US tour. With former Living Theatre member Petra Vogt Cohen travelled to Kathmandu in the early 1970s where – together with Angus MacLise and the Bardo Matrix crew – he published the delicate Starstreams poetry series on local rice paper. Cohen stayed in Amsterdam for several periods during the mid and late 1970s, where his friends Simon Vinkenoog and Eddie Woods were living and fellow expat William Levy introduced him to Gerard Bellaart from Rotterdam, who published Cohen's Kathmandu Portfolio and From the Divan of Petra Vogt through his Cold Turkey Press. In 1981 Cohen returned to New York, where he married and had a daughter with Caroline Gosselin. They divorced in 1989. Cohen spent the rest of life in New York, where he died of kidney failure in 2011.
Ira Cohen took part in the Whitney Biennial of 2006; on that occasion the catalogue Licking the Skull that Cynthia Broan Gallery, New York, had published six years earlier to accompany a show of Cohen's photographic work, was reprinted. A signed copy of this 2006 reprint has now been made available from the Sea Urchin archives. The condition of this copy is very good with a slightly bumped corner and some stains on the back cover from Ira Cohen's magenta envelope in which the book was shipped. Signed by Ira Cohen.