Artist: Albrecht/d
Label: Dead Mind Records, 's-Hertogenbosch, The Netherlands
Year: 2016
Black 12″ vinyl in offset printed sleeve
Artwork: Albrecht/d
Design: Johnny Van de Koolwijk
Limited edition of 200

€ 18.00
Dead Mind Records is a small label run by Johnny Van de Koolwijk from 's-Hertogenbosch, The Netherlands. Since 2000 it has released on cassette, 7″ vinyl and 12″ vinyl a fine choice of industrial noise and experimental music. The material on the latest 12″ vinyl was recorded by Albrecht/d for a release on Slowscan in 1990/1991, but the project never happened and the recordings were shelved. Now, with the kind permission of Van de Koolwijk's friend Jan van Toorn, these obscure recordings have at last become available on Dead Mind Records.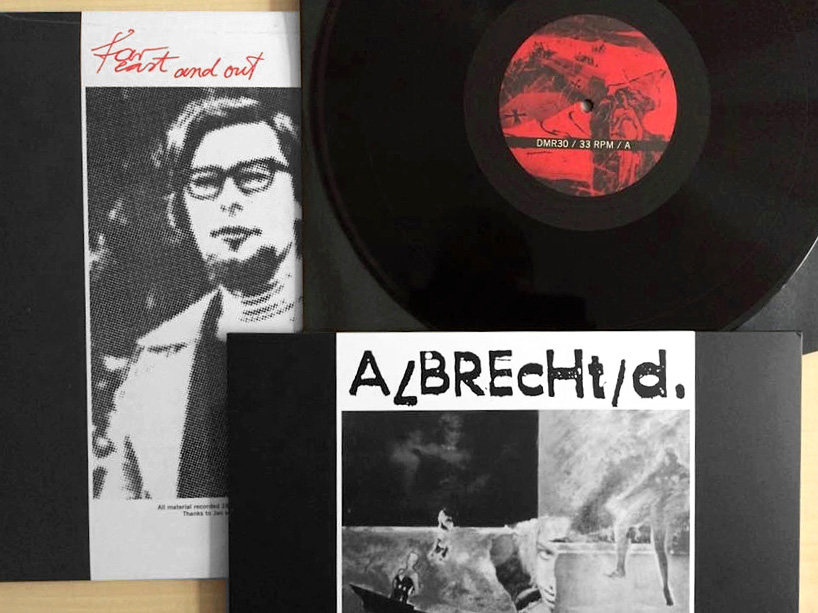 Albrecht/d (pseudonym of Dietrich Albrecht) was born in Thüringen in 1944. After having worked for a bank for a couple of years, he turned to making art in 1966 and soon after to teaching art at a secondary school in Stuttgart as well. Albrecht was influenced by dadaists Raoul Hausmann, Hans Arp, Kurt Schwitters and John Heartfield and gravitated naturally towards the neo-dadaist mail art and Fluxus movements that were flourishing at the start of his artistic career. As part of his artistic practice Albrecht – who changed his name into albrecht/d – founded 'Reflection Press' in 1968 and published pamphlets, books and cassettes of like-minded artists such as Ben Vautrier, Milan Knizak and Throbbing Gristle. Reflection Press ceased to exist in 1988 and was replaced by 'Kinky Beaux Arts', which was mainly used for Albrecht/d's own publications and releases and for collaborations with other artists. Albrecht/d collaborated with leading artists such as Joseph Beuys and Wolf Vostell but remained relatively unknown himself. For the greater part this was due to his rejection of the official art world and his subversive and rebellious nature. Albrecht/d died in Stuttgart in 2013.
Far East And Out are four fantastic home recorded and improvised pieces by Albrecht/d in which eastern sounding minimalist pieces for percussion instruments like cymbals and bells, a flute and a string instrument are coupled with psychedelic electronic, almost industrial distortion. Dead Mind Records has done a great job unshelving and presenting this treasure.