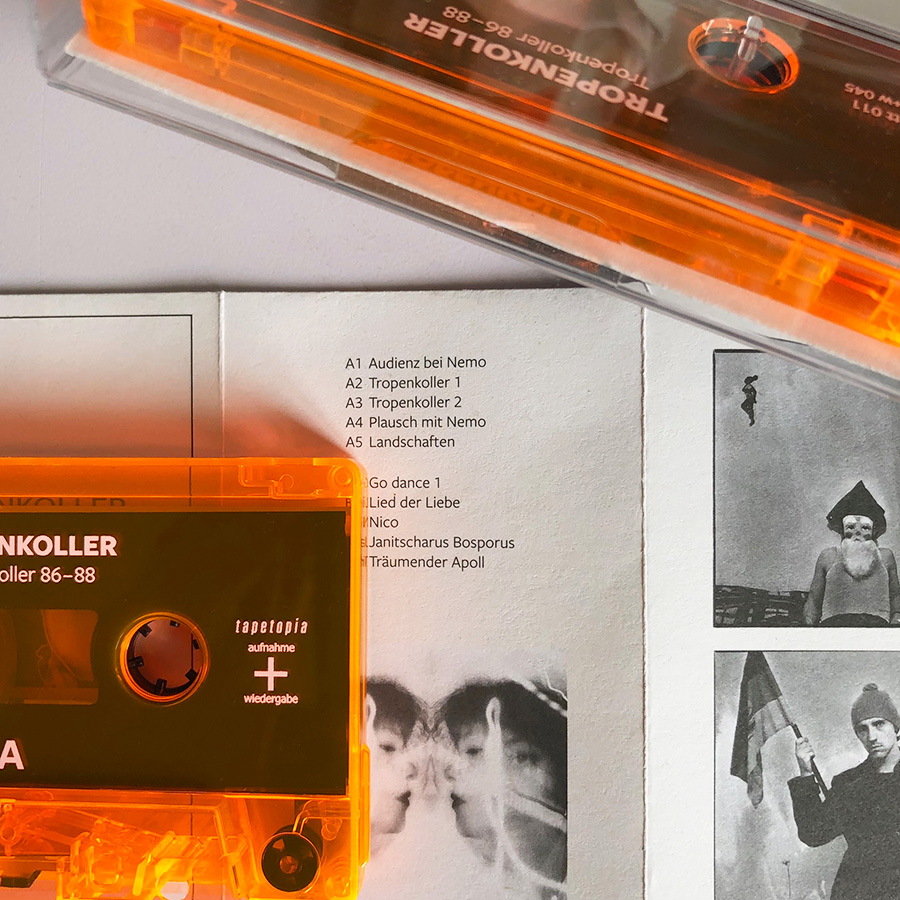 Karl-Marx-Stadt (now Chemnitz) was one of the GDR's subcultural hubs in the late 1970s and 80s. The industrial city in Saxony produced an impressively wide informal cultural programme beyond state structures. Bands such as Die Gehirne, Knut Baltz Formation, Die Arroganten Sorben, Kartoffelschälmaschine, AG Geige or the projects of cassette label klangFarBe created a complex artistic environment, in which Tropenkoller ran its spiritual exercises from 1986 to 1989.
The "introverted experiment" remained distinct yet was exemplary of a Karl-Marx-Stadt sound that considered dissonance a non-ideological form of harmonics. A first and only tape appeared in 1988. The extravagant packaging illustrated the edition's exclusive nature; no more than twenty-five copies were released by Tropenkoller into the limited coterie of its open circle. The re-release of this obscure cassette by tapetopia from Berlin comes with extensive liner notes by Robert Mießner and Henryk Gericke.
tapetopia is a series of releases based on cassettes from East Germany's 80s underground, particularly from the East Berlin 'Mauerstadt' music scene, featuring original layouts and track lists. For over 30 years after their initial "release" the music on these tapes was neither available on vinyl nor CD, but they were important statements in the canon of the GDR subculture. Despite the miniscule number of original cassettes in circulation at the time many of the bands were popular in countercultural circles, a factor that made them highly suspect among the government's own inner circles. tapetopia is run from Berlin by Henryk Gericke.