"…The band Neuntage appeared in 1986 during the last blackout phase of the GDR. Its founding fathers came from the early East Berlin punk scene. They had found common ground in projects such as Medusa Brahma, Die zeitweilige Erscheinung or the Mahlsdorfer Wohnstuben Orchester. From there, a short tunnel led straight into the black light of Neuntage, the coldest star in the lowhanging synth-pop sky above East Berlin. Hardly any other post-punk band in the GDR was blessed with such an unconstrained and incidental understanding of melody. Conceptually and technically, Neuntage was discerning, but a band heavily into DIY. Some of its equipment was based on circuit diagrams from the radio amateur magazine "Funkamateur" by the military publishing house of the GDR. Soldier circulated in an edition of less than 50 copies, on cassettes the band had bought from Vietnamese guest workers. Neuntage also performed with Die Vision and with AG Geige…."
(from the liner notes by Henryk Gericke)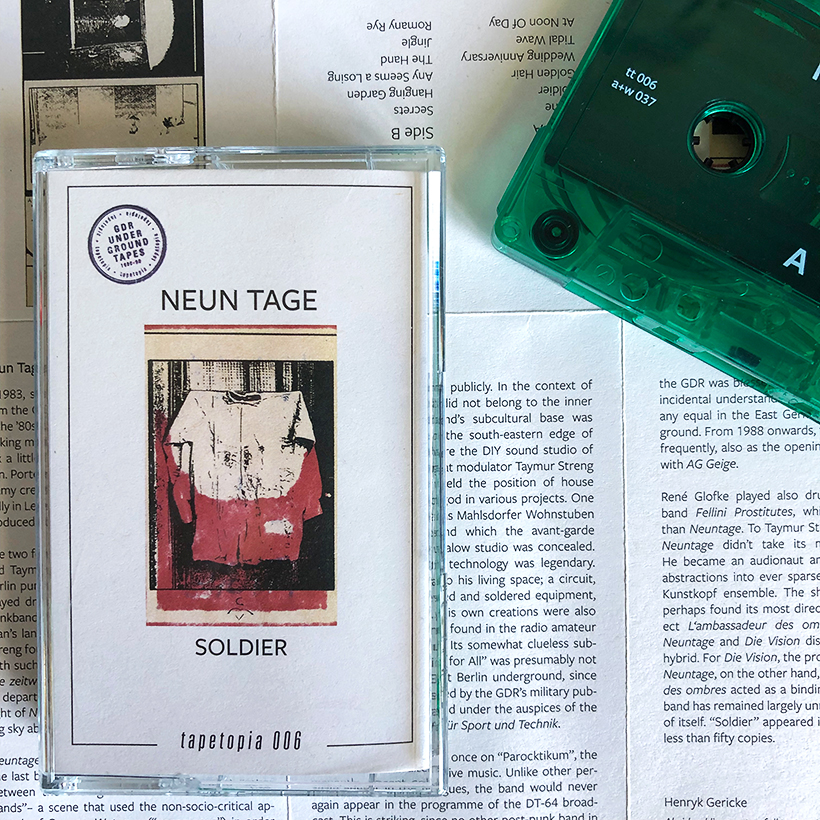 The original 1989 Neuntage cassette Soldier has now been re-released on C50 by tapetopia and aufnahme + wiedergabe accompanied by extensive English liner notes by Henryk Gericke, not only on the band and its releases but also on the broader historical background of underground taping in the GDR. Edition of 100 hand numbered copies.
tapetopia is a series of releases based on cassettes from East Germany's 80s underground, particularly from the East Berlin Mauerstadt music scene, featuring original layouts and track lists. For over 30 years after their initial "release" the music on these tapes was neither available on vinyl nor CD, but they were important statements in the canon of the GDR subculture. Despite the miniscule number of original cassettes in circulation at the time many of the bands were popular in countercultural circles, a factor that made them highly suspect among the government's own inner circles. tapetopia is run from Berlin by Henryk Gericke.