Artist: Ed van der Elsken
Publisher: De Bezige Bij, Amsterdam
Year: First printing, 1958
Size: 270 x 210 x 17 mm
Language: Dutch
178 pages, offset printed hardcover
Design: Jurriaan Schrofer
Text booklet: Ed van der Elsken & Jan Vrijman
Fine condition except for the dustjacket which shows wear and has a small tear. Complete with accompanying text booklet.

€ 75.00
Postage & packing not included
Ed van der Elsken (1925-1990) was born in Amsterdam, where he was trained as a stonecutter and sculptor until 1944. Inspired by the photojournalistic Picture Post and Weegee's Naked City he shifted his interest from sculpting to photography in the late 1940s. When he tried his luck Paris in 1950, he took up a job printing photos in the darkrooms of Magnum agency. There he met his future wife, the Hungarian photographer Ata Kandó, who was twelve years his senior and was part of the bohemian rive gauche. Through the friendships and acquaintances of Ata, Van der Elsken became one of the best-known documentalists of that seminal post-war scene. Van der Elsken divorced Ata in 1955 and moved back to Amsterdam, where his photo novel Love on the Left Bank – starring Australian bohémienne Vali Myers – was published by De Bezige Bij one year later. The influential edition was to be the first of some twenty photo books published over the following decades.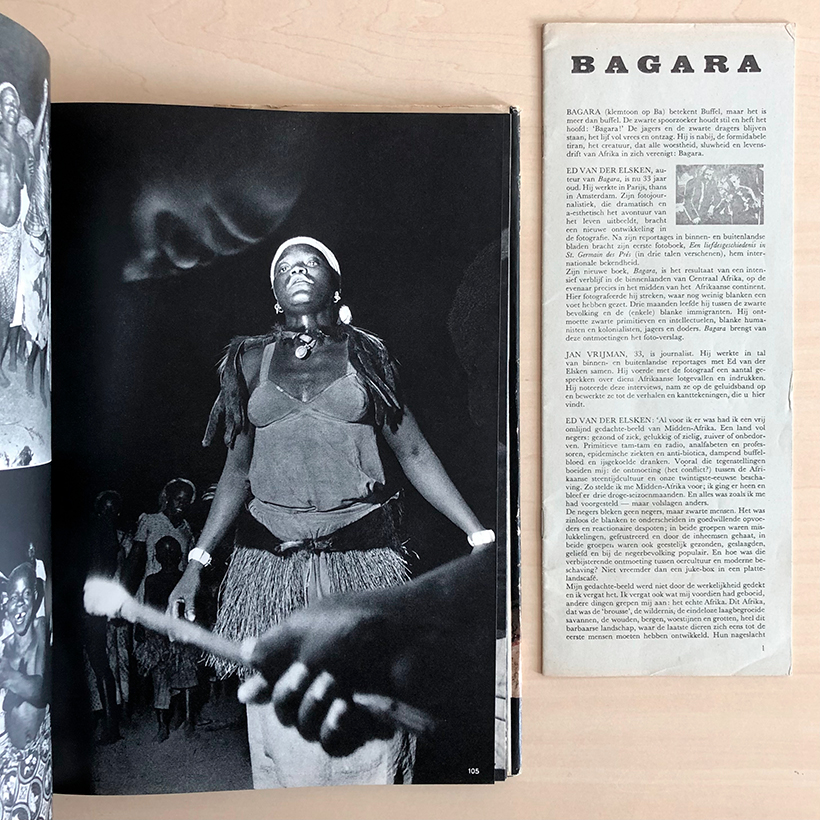 In 1956/57 Van der Elsken travelled through the interior of Central Africa on the equator. A selection of the thousands of photographs he took during that journey was published by De Bezige Bij, Amsterdam in 1958, most of them printed black and white. Bagara means 'buffalo', an animal which – according to Van der Elsken – personifies the savagery and vitality of Africa. Designed by Jurriaan Schrofer, the book presents a brutally honest insight into life and death in Central Africa at the time. Bagara counts as one of Van der Elsken's major publications; an exhibition devoted to Bagara was organised by Frans Hals Museum, Haarlem in 2004.
This particular copy of the sought-after first printing is fine: no damage or ownership marks. It comes with a copy of the accompanying text booklet by Van der Elsken and Jan Vrijman slipped into the dustjacket. The dustjacket itself shows some staining and wear and has a small tear.