Contributors: Harvey Pekar, Bill Smith, Vladimir Simosko, a.o.
Publishers: John Norris & Bill Smith
Year: 1975
Size: 273 x 210 x 3 mm
Pages: 40, offset printed and saddle stitched
Language: English
Condition: Good; some discolouring, wear and a small dog ear.

€ 12.50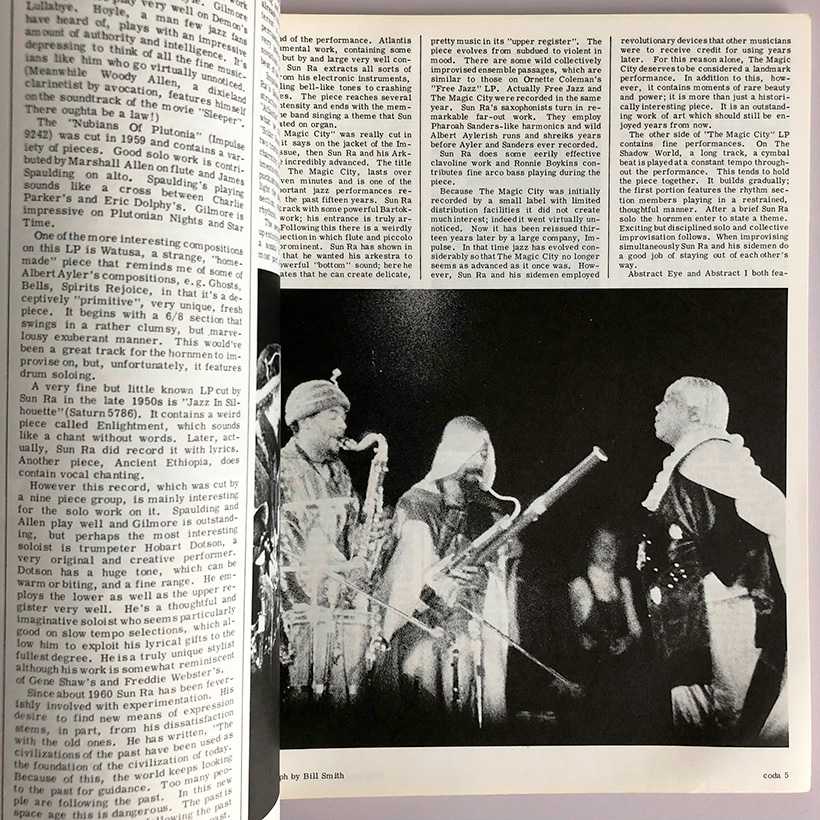 Coda was a Canadian jazz magazine founded in 1958 by British-born publisher and record producer John Norris. The frequency of publication varied from monthly to bi-monthly and the circulation was about 3,000. Norris was editor from 1958 to 1976 when he was succeeded by the magazine's art director Bill Smith. In 2000 Coda was sold to the Warwick Publishing Group and ceased publication in 2009. Coda was a well-respected international jazz magazine which contained interviews, features, reviews and news columns. The number of writers who were with the magazine almost since its beginning included former editors Norris and Smith and long-time contributors Peter Vacher and Al Van Starrex. The magazine regularly included distinguished international writers like William Minor, Art Lange, and Francesco Martinelli.
Coda Vol. 12 No. 7 appeared in June/July 1975 and includes an article on Sun Ra by writer and music critic Harvey Pekar, a John Gilmore discography and article by Vladimir Simosko and record, book and concert reviews by various other contributors. The condition of this copy is good with some discouloring, wear and a small dog ear.