Artist: Paolo Coteni
Label: Slowscan in cooperation with Archivio Silenzio
Slowscan vol. 47
Year: 2020
Black 12" vinyl in offset printed sleeve
Photography: Laura Grisi, Paolo Salvatori, Paolo Coteni
Design: Johnny Van de Koolwijk
Limited edition of 220 + 80 HC

€ 25.00
Postage & packing not included
Laura Grisi (1939-2017) was an Italian artist who travelled extensively after her marriage to documentary filmmaker Folco Quilici in the mid-1960s. Overwhelmed by the natural beauty and the awe-inspiring power of nature that she came across during her foreign journeys, she started introducing natural elements and chance into her work in 1968: fog, water, wind, light, rocks and other natural phenomena would find their way into the enclosed spaces of galleries and art institutes since then. Her 1969 video The Measuring of Time tried to capture the immense span of space and time experienced in a desert and her photographic work Pebbles (1973) consisted of five pebbles arranged and photographed in 120 different combinations. Italian artist and composer Paolo Coteni paid tribute to Laura Grisi with the LP Nel Corso del Tempo, which he produced in collaboration with Jan van Toorn's Slowscan label from 's-Hertogenbosch.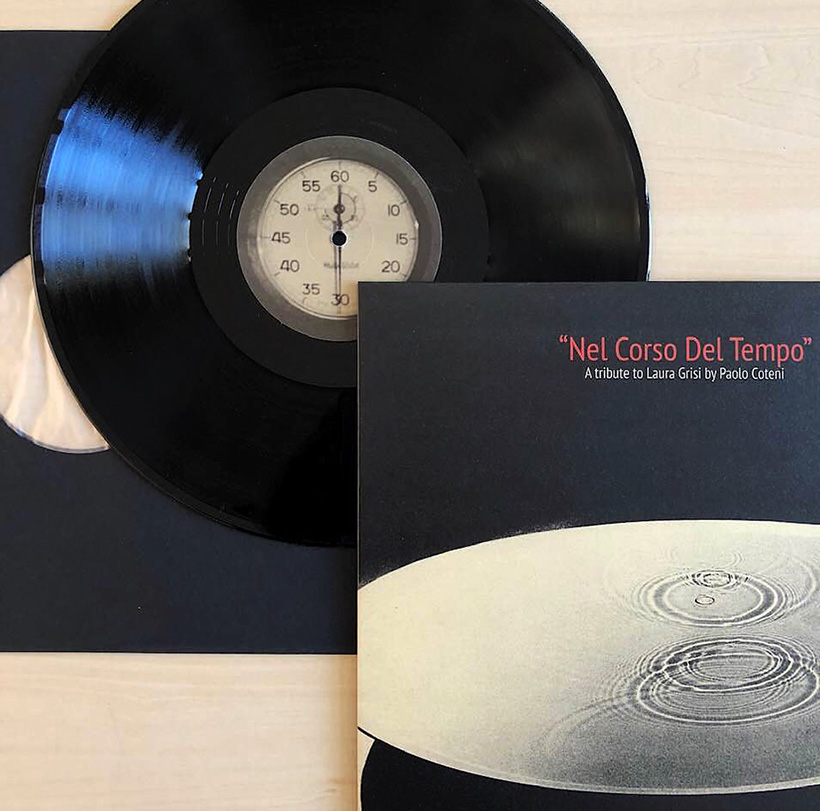 Inspired by Laura Grisi's meditative cassettes with titles such as Ten Stones Singing and The Noise of Life, Paolo Coteni recorded various tapes of his own experiments with time and nature in the 1970s and 1980s. These tapes formed the base of his two compositions of concrete music on the Slowscan LP: Acqua, Aria on side A and Fuoco, Terra on the flipside. Coteni, who mixed and edited the pieces in his own Studio Archivio Silenzio, set out to add a dimension to Grisi's sound works. Where Grisi's work paid tribute to nature, Coteni turns sober field recordings into multi-layered soundscapes; at times minimal, at times trance-like, almost psychedelic.
Paolo Coteni was a pioneer of minimal music since the 1970s. He was active at research centre Beat '72 in Rome, where he got in touch with foreign composers, such as Philip Glass, LaMonte Young, Terry Riley. Coteni wrote a book on minimal music, was a close friend and collaborator of Giuseppe Chiari, and was known for his immersive multimedia installations. Paolo Coteni died in December 2021.