Artist: Henri Chopin
Label: Slowscan, 's-Hertogenbosch, The Netherlands
Slowscan vol. 35 (2nd edition)
Year: 2017
Double LP, black 12" vinyl in offset printed sleeve
Design: Johnny Van de Koolwijk
Photography: Harry Hoogstraten
Liner notes by Henri Chopin
Limited edition of 300 (first edition: 250)

€ 29.00
Slowscan vol. 35 is a re-issue on vinyl of the cassette 'OH Audiopoems', which was released on Erik Vonna-Michell's Balsam Flex label in 1978. The black vinyl double LP contains a powerful selection of pieces by one of the key figures of the European post-war avant-garde.
Artist, publisher, filmmaker and poet Henri Chopin (1922-2008) bought his first tape recorder in 1955, after which he started experimenting and pushing his poetic output into the realm of sound poetry. Chopin counts as a pioneer in that field, coupling attitudes and approaches of the early 20th-century avant-garde with new technological possibilities and bringing together in his publications international iconoclasts such as original dadaists Raoul Hausmann and Marcel Janco and post-war lettrists, Fluxus artists and Beat poets such as Gil Wolman, François Dufrêne, Ian Hamilton Finlay, William Burroughs and Brion Gysin.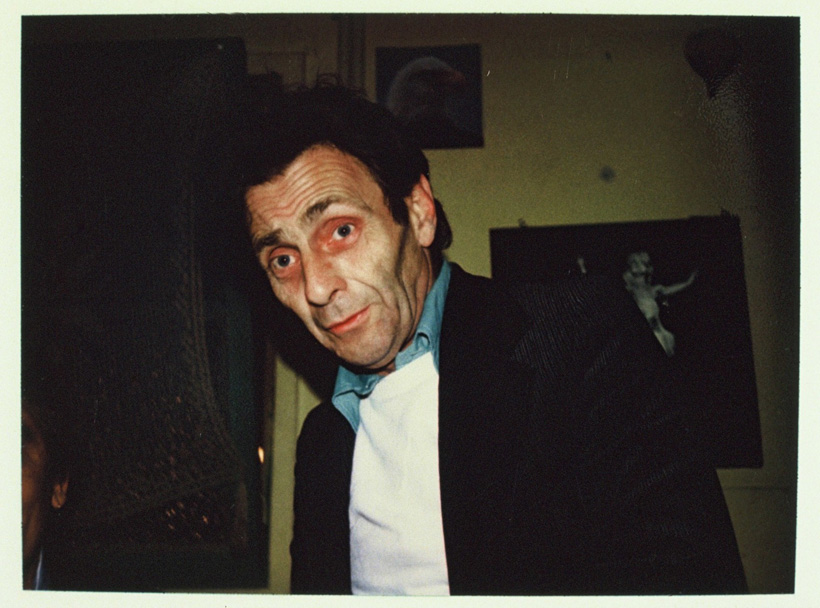 Chopin's pieces are the result of an uncompromising approach of poetry, in which speech itself is taken apart and put together again in raw and anti-aesthetic compositions. The first track on this release, for instance, is the sound poem 'Dentales Soufflées', a work which is 'made up of unvoiced vowels hitting against the teeth and using them as percussion instruments with the microphone placed against the teeth'. Another characteristic work on this release is 'La Peur'. 'La Peur' is a piece started as early as 1959 and finished 12 years later as a 35-minute exorcism of the fears Chopin had experienced as a deportee and prisoner during World War II. 'Le Corps', a work published as part of Chopin's seminal 'OU' magazine in 1966, is an attempt to break away from the traumas and fears that had fuelled Chopin's works until then. All meaning and communication are abandoned in this poem, in which speech is reduced to breath and the focus is on the body that produces it. 'This sound poem taught me once more what love is', writes Chopin in his liner notes. His later piece 'Improvisation Directe' also centres on the body by literally taking apart the French word 'corps'. It was recorded live during a radio broadcast on France Culture in 1978. And, finally, Chopin's piece 'Vibrespace' is an exploration of human movement in space that was put together in 1963 and concentrates on manipulating the speed of the tape recorder reels.
This Slowscan release is a repress in 300 copies of the popular Slowscan vol. 35, which sold out very quickly. The black vinyl double LP comes in a different colour sleeve and with different labels from the first edition's. Chopin's explanatory liner notes and a previously unpublished photo of Chopin by Dutch poet Harry Hoogstraten grace the back of the sleeve which was designed by Johnny Van de Koolwijk.
Photo of Henri Chopin: Harry Hoogstraten, 1979.