Artist: Sinclair Beiles
Label: Sloow Tapes, Stekene, Belgium
Year: 2015
C60 cassette
Language: English
Artwork by Sinclair Beiles
Photography: Gerard Bellaart
Edition of 100 copies

€ 8.00
Sloow Tapes' Sinclair Beiles release is a rare recording of the South African poet reading his one-man play 'Chopin in Majorca'. The play was published in print by Nugget Press, Johannesburg in 1996, but can now also be heard in Beiles' own voice thanks to Bart De Paepe's Sloow Tapes and Beiles researcher Fred de Vries.
Sinclair Beiles was born in Kampala, Uganda in 1930, the only child of Jewish South African parents of Russian descent. The family moved back to Johannesburg when young Sinclair was six years old. There he studied at Wits University before entering on a wandering existence in the early 1950s. Beiles travelled to New Zealand, Spain and Tangier, where he first met William Burroughs at Dutch Tony's male brothel in 1954. Some five years later he ran into Burroughs again. This time in Paris, where Beiles worked as a writer and editor for Maurice Girodias' notorious Olympia Press. Beiles secured Burroughs' manuscript of 'Naked Lunch' for his employer and guided the work to its publication in 1959. At the request of Burroughs Beiles took up lodging at the Beat Hotel the following year, where he co-authored the seminal cut-up pamphlet 'Minutes To Go' with Burroughs, Gregory Corso and Brion Gysin. With the original Beat Hotel scene dissolving in the late 1960s, Beiles left Paris and travelled to Greece and England before finally returning to South Africa in the late 1970s.
Sinclair Beiles, who "ran through psychiatrists like boxes of kleenex" according to Heathcote Williams, suffered from bouts of mental illness and was admitted to various institutions during his lifetime. Beiles himself maintained that his brain had become unhinged in 1962 after having been part of one of Takis' sculptures, in which a powerful magnetic field had kept him suspended in mid-air while he proclaimed a poetic manifesto. Whatever the cause, Beiles' fragile mental condition played an important part in his life, much of which was spent in institutions, and in his work, much of which was written under the influence of prescribed and unprescribed drugs. Beiles, the first poet in space, the madman who had nailed carrots to the car of a member of the Greek junta, died virtually unknown and penniless in Johannesburg in 2000.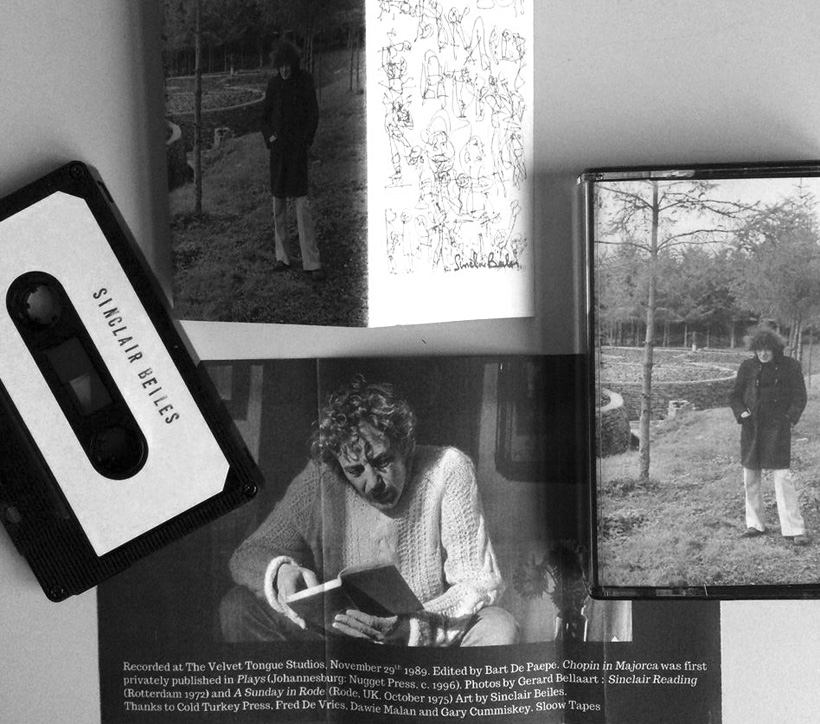 Chopin in Majorca was recorded at The Velvet Tongue Studios in Johannesburg 1989. In those studios Beiles is heard reading his play, a poetic counterpart of George Sand's 'Un hiver à Majorque', in which the author (whose real name was Amantine-Lucile-Aurore Dupin) relates the disastrous winter that she and her lover Frédéric Chopin spent on the island in 1838-1839. In an effort to counterbalance George Sand's self-centred account, Beiles' tries to picture in his one-man play what the winter on Majorca must have looked like from Chopin's point of view. An ambitious undertaking, which may well have worked in print but somehow fails to convince as a recording. Mainly because of the unsuccessful combination of poetry and music. The stretches on the tape where Beiles is heard reading his play without music in the background, show that adding music (from piano works by Chopin to Spanish guitar pieces) was an unfortunate choice. Orchestration doesn't go well with his sensitive and investigative poetry. 'Chopin in Majorca' is then one of Beiles' beautiful and endearing failures. A failure in grand style. Don't miss this unique recording. It's beautiful. A carrot is as close as a rabbit gets to a diamond, as Captain Beefheart would say.
The cassette cover has artwork by Sinclair Beiles and photos by his friend Gerard Bellaart of Cold Turkey Press. The beautiful cassette was released in an edition of only 100 copies.