De Volkskrant on 12 Great Americans and the Cold Turkey Press show at Historisch Museum Rotterdam organised by Sea Urchin
---
Ron Meerhof − 19/05/06
'Hallo Gerard', schrijft Charles Bukowski in 1970 aan Gerard Bellaart, 'Ik was het vergeten. By God, I'm in the Dutch, eh?'..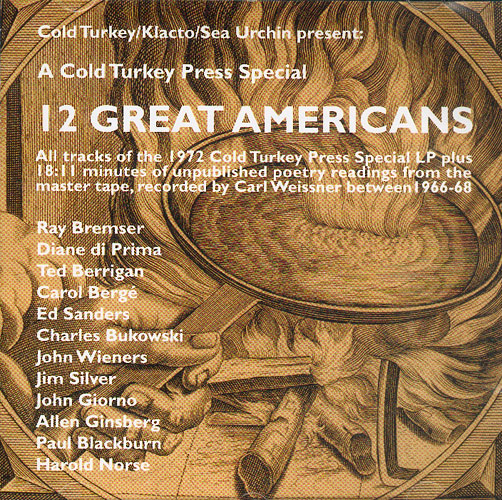 Het waren niet echt prettige tijden voor Bukowski. Hij was nog geen beroemde dronkaard, alleen maar een gewone dronkaard die rotbaantjes had: 'Iedere stap die ik zet is er een door de hel. I think the days are bad and then night comes.'
'De Barfly-periode', vat Bellaart samen. Denk aan de gelijknamige film (1987) met Mickey Rourke, die zich voor geld in elkaar laat slaan om dan de opbrengst te verzuipen met Faye Dunaway. Alleen zagen de vrouwen in Bukowski's leven er wat minder appetijtelijk uit. Zijn eerste roman, Post Office, moest nog uitkomen
En toen was daar opeens die Nederlander die óók zo van Celine hield ('My #1 boy'), die de moeite had genomen Bukowski's gedichten in het Nederlands te vertalen en met zijn eigen geld en dat van vrienden nog uitgaf ook. 'Vertaald worden in een andere taal really makes me buzz', schrijft Bukowski. 'Ik weet niet waarom. Maar het voelt goed om me eens goed te voelen.'
Dronken mirakels en andere offers was in 1970 de eerste uitgave van Cold Turkey Press; 250 exemplaren, stuk voor stuk met de hand in elkaar gezet in Bellaarts atelier aan de Rotterdamse Schietbaanlaan.
Daarna volgden vertalingen van onder anderen William Burroughs, Allen Ginsberg en César Vallejo. En er kwamen Engelstalige uitgaven: de radiopraatjes van Ezra Pound tijdens de oorlog, werk van Ira Cohen, Heathcote Williams, Sinclair Beiles. → Lees verder