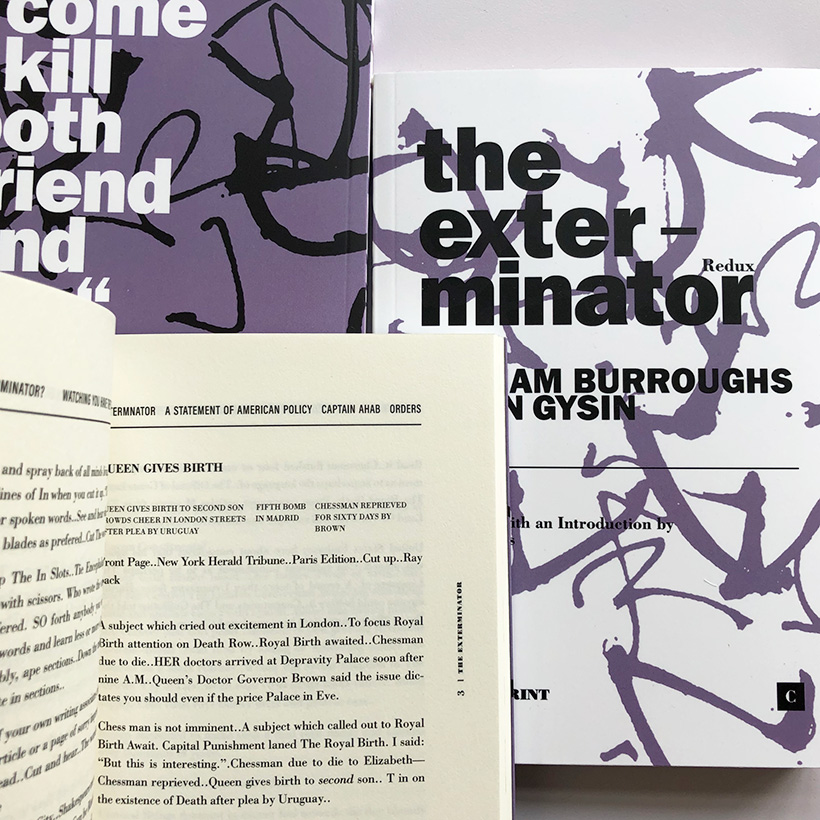 New in our Moloko Plus catalogue:
William Burroughs & Brion Gysin – The Exterminator redux
(Edited and introduced by Oliver Harris, published by Moloko Print, 2020)
From Oliver Harris' introduction:
It is a well-known tiresome fact, it is a notoriously dull and long-winded fact—to borrow a line from Naked Lunch—that anyone who mentions The Exterminator has to point out that everyone else who mentions it gets the title wrong, confusing the experimental cut-up pamphlet from 1960 co-authored by Burroughs and Gysin with a collection of Burroughs' relatively conventional short fiction published in 1973 called Exterminator! The confusion proves how easy it is for careless critics and copyeditors to muddle up little-known books with similar-sounding titles, but this case of mistaken identity also applies to the text as a whole. The Exterminator is far more interesting than just an abandoned early experiment or a transitional work that shows how Burroughs got from Naked Lunch to The Soft Machine. If you want to know how to get from the Duke of Buckingham to Arnold Schwarzenegger, or from the Surrealists to the Sex Pistols, or from the New York Herald Tribune to some of Burroughs' most potent phrases, you need to be reading the right Exterminator.
Oliver Harris' life as a Burroughsian began in 1984 with a PhD at Oxford that nobody would supervise. He has since gone on to publish and edit more than a dozen books about and by Burroughs, including William Burroughs and the Secret of Fascination and new editions of three trilogies: Junkie Queer, The Yage Letters: Restored versions of Nova Express, The Soft Machine and The Ticket that exploded; and in 2020 Minutes to go redux, The Exterminator redux and BATTLE INSTRUCTIONS. He is Professor of American Literature at Keele University and President of the European Beat Studies Network.