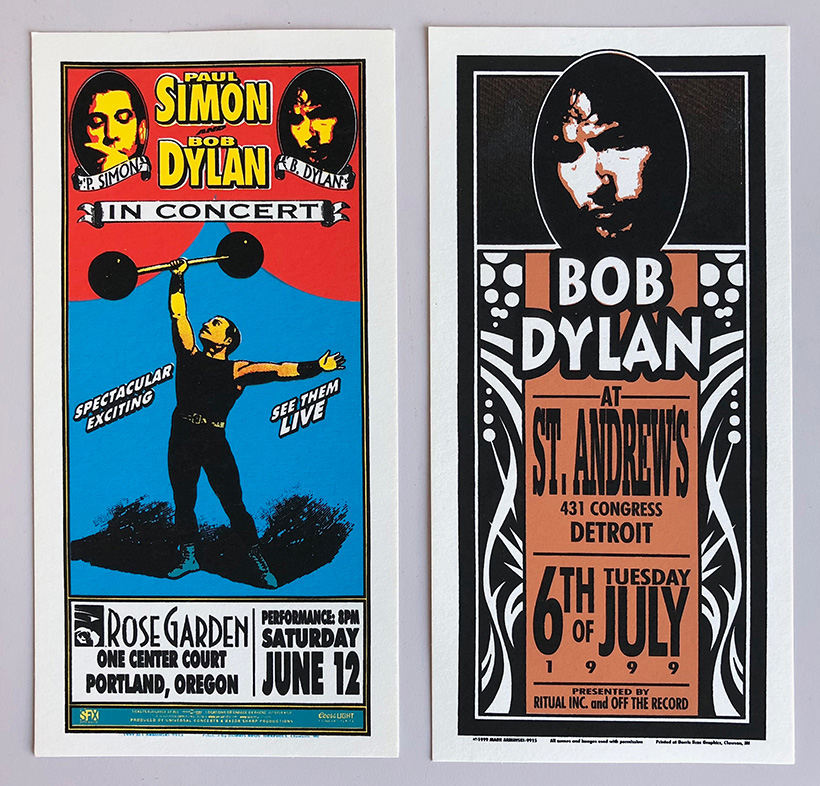 New in our Collectible catalogue:
Mark Arminski – Silkscreened handbills for two Bob Dylan concerts
Mark Arminski (1950) is an American poster artist from Detroit, Michigan. He studied art at the Oakland Community College and printmaking in stone lithography at the Kalamazoo Institute of Arts. Arminski bridges the psychedelic poster art of the 1960s and the grunge aesthetic of the early 1990s and has emerged as an equal among his mentors, such as the late Gary Grimshaw. While much of Arminski's work was originally found in and around Michigan, he has designed concert posters for events in New York, Los Angeles, and San Francisco, and he is regularly commissioned to design CD cover art.
The handbills that Arminski designed for two Bob Dylan concerts in 1999 were silkscreened at Dorris Brothers Graphics Inc. in Clawson, Michigan. In 2001 they were traded at that shop for Dutch cornflakes boxes, which one of the owners of the company collected. Subsequently, the condition of these handbills is mint.. Order now →