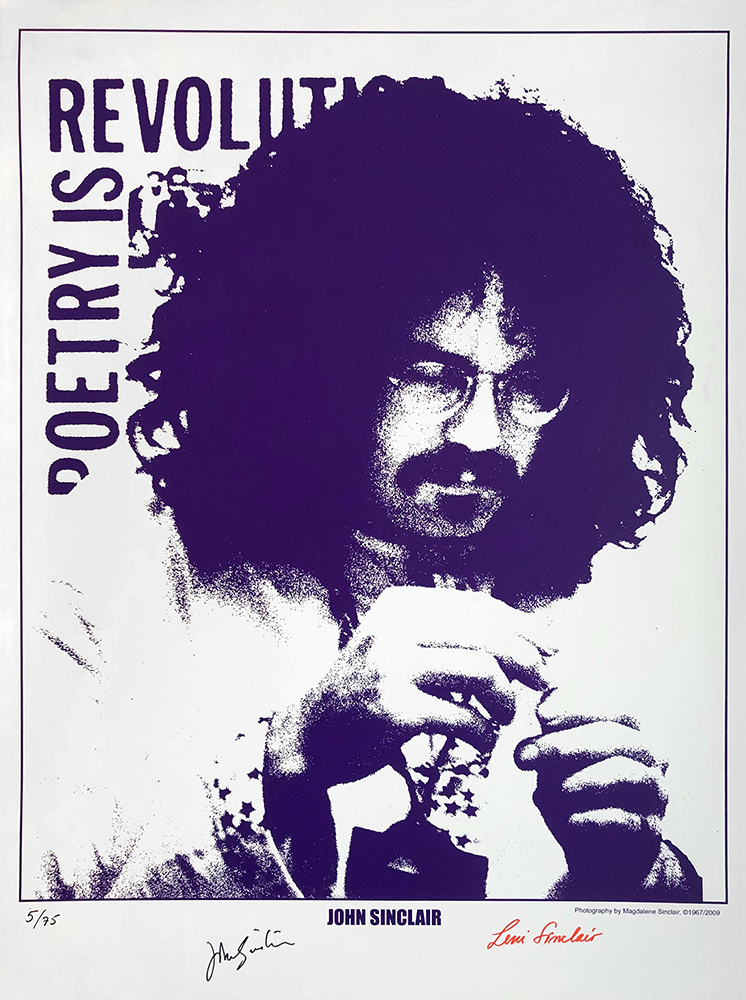 Silkscreened 'Poetry is Revolution' poster signed by John & Leni Sinclair
This silkscreened reprint of a Trans-Love Energies 1967 poster was published in an edition of 75 by Bookbeat, Oak Park in 2009. Trans-Love Energies was founded in Detroit in the early 1960s as a communal living environment, but later relocated to Ann Arbor. Founded by poet and political activist John Sinclair and his then wife Leni Sinclair, one of its slogans was Poetry is Revolution. The commune consisted of two houses and, among others, was home to the White Panther Party and the MC5. This hand numbered copy, made available from the Sea Urchin archives, has been signed by both John and Leni Sinclair and is in excellent, unused condition.
At the height of the sixties, John and Leni Sinclair were leaders of the counterculture movement in Michigan, organizers of radical social, political, and cultural endeavors primarily in the areas of music, poetry, graphic design, and community welfare projects. During the 1960s and 1970s the Sinclairs founded or were active in a variety of political and cultural groups including the Artists' Workshop in Detroit, the Rainbow Multi-Media Corporation, the White Panther Party and its offshoot, the Rainbow Peoples Party; and had ties to various national radical organizations. John Sinclair was also an organizer of the Ann Arbor Jazz and Blues Festival and concerts and managed several rock bands, most notably the MC5. He was arrested for passing marijuana cigarettes to an undercover agent and was the subject of significant legal proceedings involving government surveillance and wiretapping. His wife Leni Sinclair (Magdalene Arndt) emigrated from the former German Democratic Republic to the US in 1959 and has worked as a photographer of jazz and rock musicians since the early 1960s.