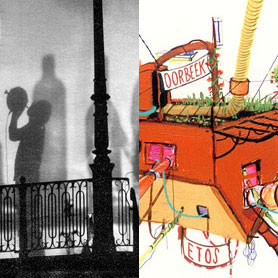 Serge Onnen (1965) was born in Paris but now lives in Amsterdam. Being a prolific draughtsman himself, Onnen has produced a number of books in which drawings by various artists (for instance on hands and on writing) are compiled. Onnen's own work has been included in a rapidly growing number of exhibitions and manifestations, among which Sonsbeek 2008.
Apart from his work as an artist Onnen teaches at Rietveld Art Academy Amsterdam and plays the trumpet in the experimental and improvisational ensemble Oorbeek.
Two editions of Oorbeek are now available from Sea Urchin: the audio CD Etos (2005) and the DVD Ombromanie (2010).
→ Check our catalogue for more information.