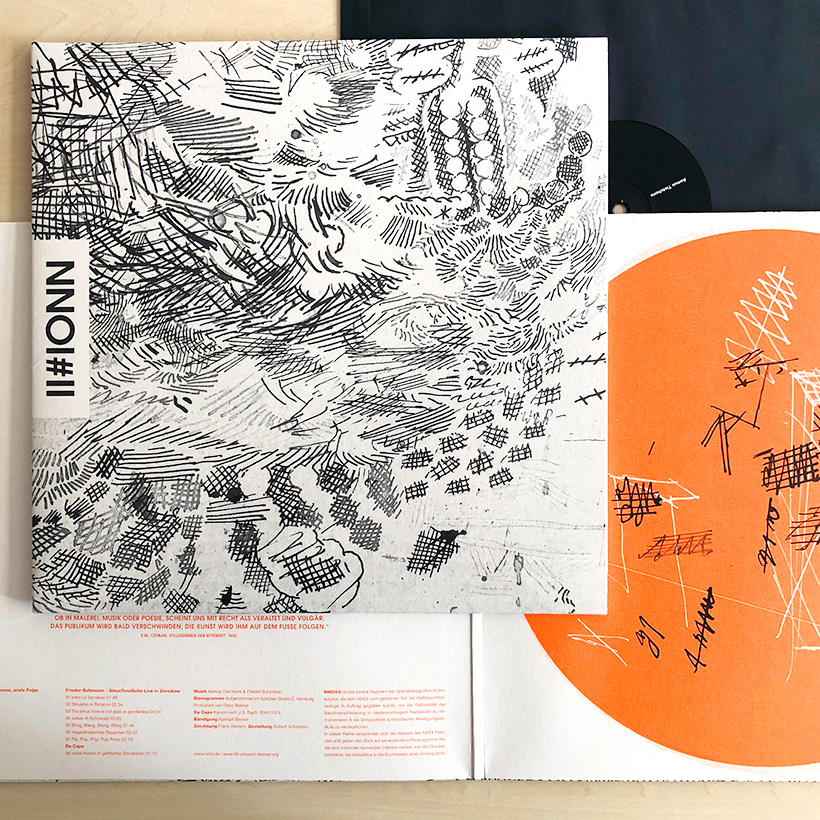 New in our catalogue:
Asmus Tietchens / Frieder Butzmann – NNOI#2
(LP released by 90% Wasser, Berlin, 2020)
NNOI is an annual open air festival for experimental music in Großwoltersdorf, close to Berlin. Since 2016 the festival, organised by Column One's Robert Schalinski, has seen line-ups of artists and musicians such as Limpe Fuchs, Christoph Heeman, Sigtryggur Berg Sigmarsson, Felix Kubin, Ditterich von Euler-Donnersperg (Uli Rehberg), Asmus Tietchens and Frieder Butzmann. The latter two composers have now been brought together on an LP, which was released on Robert Schalinski's 90% Wasser label in September 2020. NNOI#2 is the second in a series of vinyl releases that not only documents but also elaborates the live performances of the festivals. Like the first NNOI release the gatefold sleeve is the result of a collaboration of Robert Schalinski himself, who took care of the design, and German master draughtsman Frank Diersch, who provided the artwork.
German composer, radio play and performance artist Frieder Butzmann (1954) took part in one of the NNOI festivals, where he staged his SinusToneSuite. This live recording has now been released on NNOI#2, where it is followed by his composition Da Capo, a vocal canon after J.S. Bach. On the other side of the record Stenogramme, erste Folge, by another renowned experimental German composer, Asmus Tietchens, can be heard. The composition was recorded in Audioplex Studio, Hamburg in 2020.