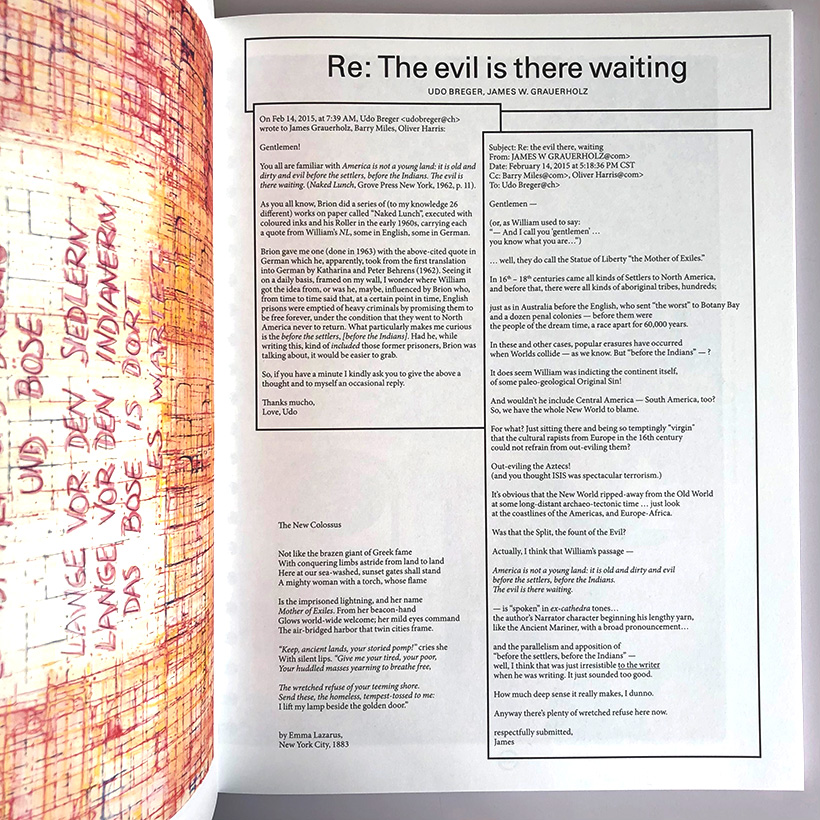 New in our catalogue:
(published by Expanded Media Editions, Basel, 2020)
Soft Need #23 is the final issue of a little mag founded by Udo Breger back in 1973. Planned as another mag, Soft Need #23 ended up as a book of 260 pages with more than 80 contributors from all over the world & 190 illustrations. Soft Need #23 is a book conceived in the spirit of friendship. Dedicated to Ian Sommerville, mathematician, friend & collaborator of William Burroughs & Brion Gysin, it contains literary essays, photographs, poetry, visual art, caricature, memories & and all kinds of bits & pieces.
Udo Breger in his own words:
"In the beginning was the word. Two words, actually: SOFT NEED. They came to me in 1973 as an aftermath of a three weeks' stay across Xmas and New Year's with Gysin and Burroughs. SOFT NEED – two words that somehow formed themselves late one Göttingen night in the wake of my Duke Street experience. Was it briefly before or shortly after Ian Sommerville's visiting me in February '73, I don't recall. We had met on Xmas Eve, and Ian had had an immediate crush on me. So, SOFT NEED somehow also had to do with love. Now, there I was, stuck in emotionally rough times, and had a name, a label without a product to hang it on. At first I thought a local psychedelic rock group might be interested, but they were not. And when, weeks later, they called, having changed their minds to: Yes! – it was too late, since I already had made up my mind and named a new English-language little mag SOFT NEED 8, to be published in the fall of 1973. Followed in the years to come SN#9 (1976), and SN#17 – The Brion Gysin Special (1977), all in print-runs of 300-500 copies; and now, after a long, long break, as a result of Luzius Martin's friendly lobbying, a final issue was decided: Soft Need #23 – a publication in book-form with a focus on Burroughs, Gysin, dedicated to Ian Sommerville."