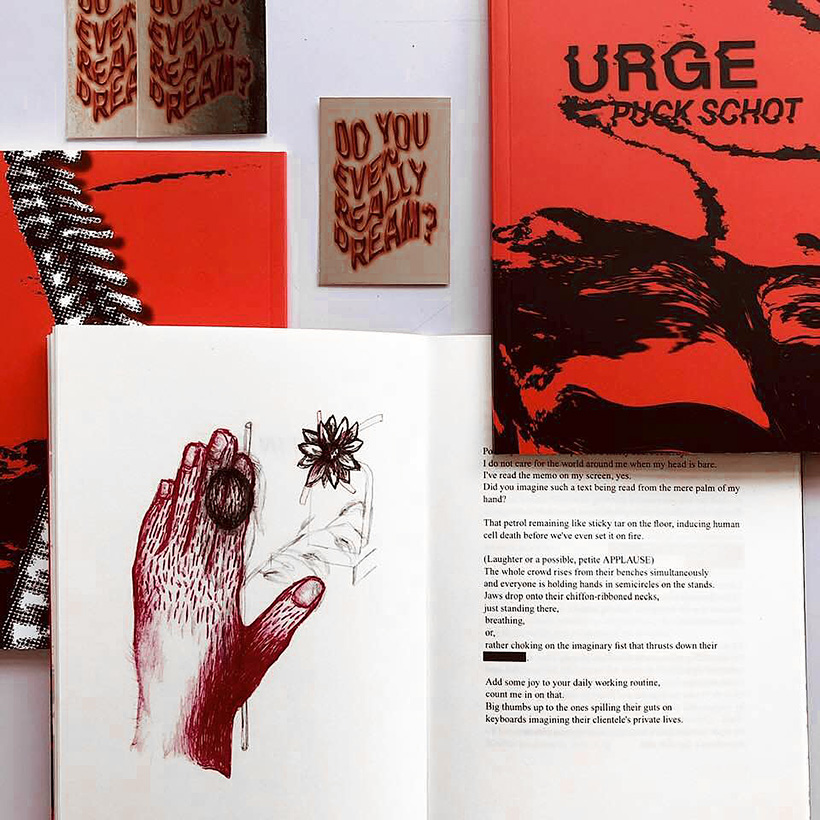 New in our Moloko Print catalogue:
Puck Schot (1994) is a visual artist, filmmaker, writer and poet from Rotterdam, who graduated from the Royal Academy of Arts in The Hague in 2016. Her work spans various disciplines – video works, writings, sculptures, drawings, sound works and performances – which go hand in hand to explore man's darker desires in modern media-generated realities. Since 2012 Schot has taken part in various group shows, programmes and festivals as well as done solo shows in Germany and Rotterdam. She was a guest lecturer and teacher for young talents at the Royal Academy of The Hague and received a Grant for Emerging Artists from the national Mondrian Fund in 2019. This grant has enabled her to publish her first book 'Urge' in collaboration with Ralf Friel's renowned Moloko Plus press from Pretzien, Germany.
Urge, introduced by the artist as 'a fictive vacuum inside a violently compressed wound or simply a compilation of fragmentary poems', has turned into a handsome edition under the wings of Moloko Plus and designer Anneke Auer. Schot's carefully arranged texts and images lead the reader along deliriously probing chapters with titles such as Angelic or Brutal Breathing to the final poem End of me, which closes with the line 'I'm going to unveil my flesh to the world as you'll add light to a tumoured sore'. Whose desire is at the root of this mess, baby?