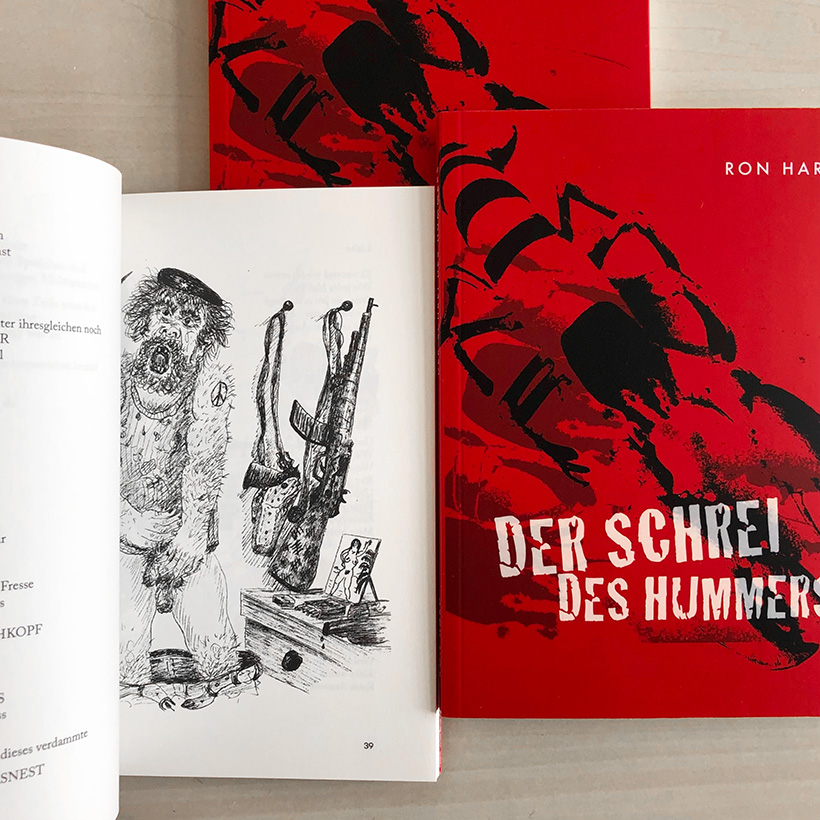 New from Moloko Plus:
Ron Hard – Der Schrei des Hummers
'Basically, nothing is okay. Not the world, not life, and certainly not us humans. I am writing about that. I am a simple person with simple thoughts and write in simple words and in simple sentences to be simply understood.' Ron Hard doesn't mince words when he debunks and deconstructs bourgeois values and false positiveness in his poems. Preferring authenticity over lyricism and content over form, his freeform poetry radiates rebellion and nihilism but for an undercurrent of sympathy and understanding of man in his existential struggle in a universe void of meaning. Hard's alcohol drenched poems, inspired by and sometimes literally referring to Charles Bukowski, provoke, swear and yell at the reader but always manage to stay warm and keep a sense of humour. In that respect Michael Blümel's illustrations in the Moloko compilation Der Schrei des Hummers (The Scream of the Lobster) form a perfect companion to Hard's hardstoff poems, which were beautifully packaged by designers Andrea Lühr and Robert Schalinski for Moloko Plus.
German poet Ron Hard was born in 1949 and has lived in Bad Dürkheim (between Mannheim and Kaiserslautern) since 2010. After having done a string of odds jobs, such as taxi driver, singer in a rockband, salesman, barkeeper and photographer, he concentrated on writing some ten years ago. 'After having gone bankrupt in 2008-2009 I finally gave my arse a rest and set my soul free by writing. I won't stop until I've reached Nirvana', Hard explains. Order now →