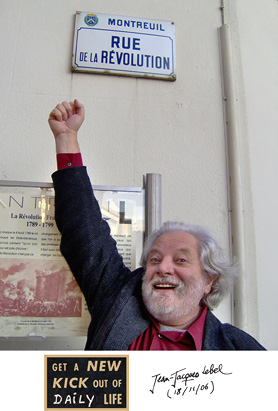 French artist, writer, curator, theorist, and activist Jean-Jacques Lebel has been a spearhead of the avant-garde and counterculture since the 1950s. Lebel was the first artist to introduce Happenings to Europe, was one of the creative forces behind the May 68 revolt, organised the Festival de la Libre Expression (which evolved into the Polyphonix festivals), provided first French translations of works by Allen Ginsberg, Gregory Corso, William Burroughs, and others, and has curated important exhibitions on a.o. Francis Picabia, Antonin Artaud, and Victor Hugo.
Through his roots in the European avant-garde and his many friendships with American poets, writers, and artists, Lebel counts as an important link between avant-garde and counterculture. For instance it was Lebel who introduced William Burroughs to Henri Michaux. Sea Urchin is proud to present editions, catalogues, writings, interviews, and original collages, all signed by Jean-Jacques Lebel.
→ Go to the Lebel catalogue.