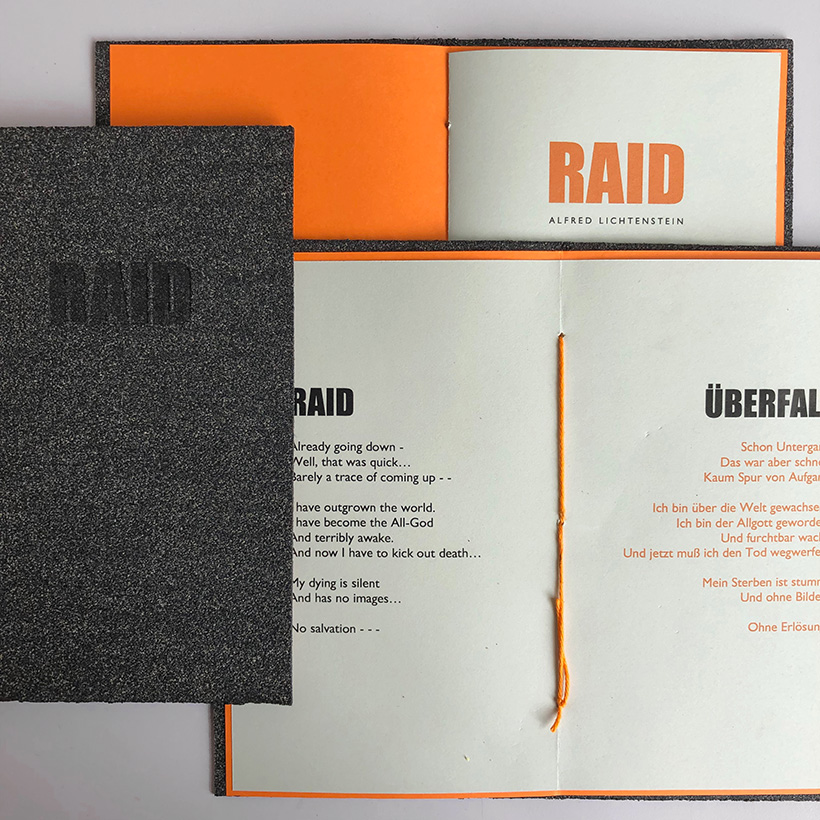 New Sea Urchin chapbook, a hot asphalt special:
"The only solace is: to be sad. When sadness degenerates into despair, you should become grotesque. You should go on living for the hell of it. Should try – recognising that existence only consists of brutal and vile hoaxes – to find uplifting." Speaking is Kuno Kohn, Alfred Lichtenstein's alter ego, who featured in Lichtenstein's poetry and prose to mock life, society, colleagues and, not in the least, the poet himself. Lichtenstein's merciless and expressionist Kuno Kohn poems were compiled and published as 'Die Gedichte des Kuno Kohn'in 1914, only months before the poet died in World War I. Überfall, now published in English as Raid, was one of those poems.
Alfred Lichtenstein was born the eldest son of a textile manufacturer in Berlin in 1889. After having finished grammar school in 1909 and having started law studies, he saw his first poems published in Herwarth Walden's expressionist magazine Der Sturm and later also in Franz Pfemfert's Die Aktion. In 1913 he finished his studies, published Die Dämmerung– his first and best-known poetry compilation – and volunteered for the army that same year. Lichtenstein was consequently drawn into World War I from the very start. Barely 25 years old, he was killed on the Western front several months later in September 1914.