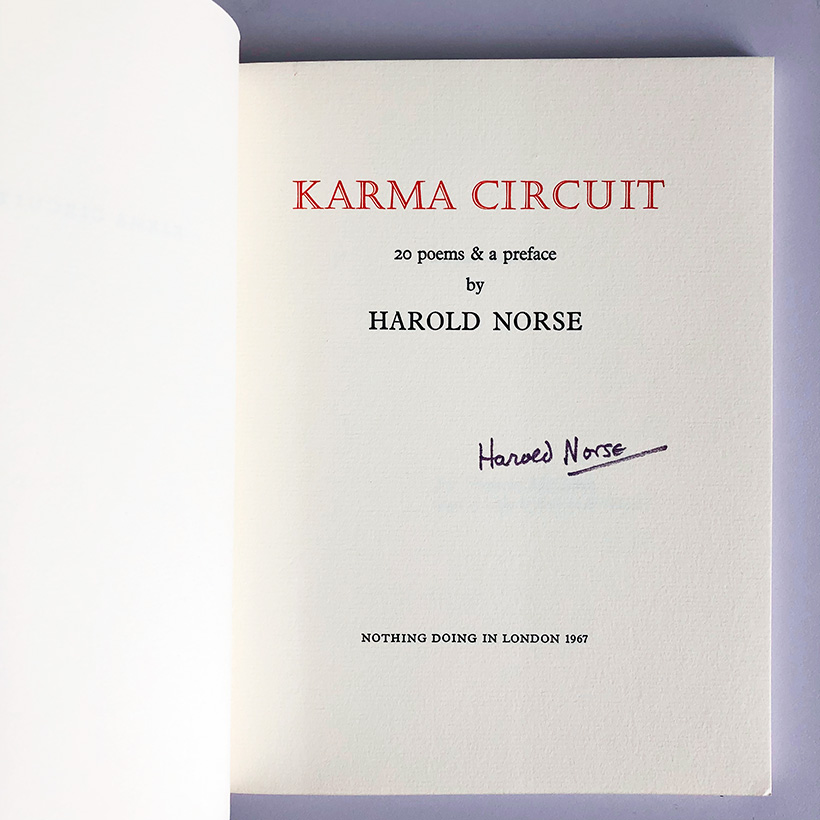 New in our Collectible catalogue:
Harold Norse – Karma Circuit (first printing)
Harold Norse was born Harold Rosen to a Lithuanian Jewish immigrant in 1916. After having graduated from Brooklyn College he became close friends with W.H. Auden – after the latter's move to the USA in 1939 – and William Carlos Williams, who helped publish Norse's experimental and groundbreaking poems. In the early 1950s Norse got his master's degree in literature from New York University and saw his first poetry compilation published. Norse lived in Italy in the second half of the 1950s and was a resident of the Beat Hotel in Paris with William Burroughs, Allen Ginsberg and Gregory Corso from 1959 to 1963. After having moved to the Greek island of Hydra and Tangier, Norse returned to the US in 1968. The last 35 years of his life were spent in the Mission District of San Francisco. With his 'Carnivorous Saint: Gay Poems 1941-1976' and publications in magazines such as Gay Sunshine, Norse established himself as one of the leading gay liberation poets of his era.
Harold Norse's poetry compilation Karma Circuit was first published in 1967 by Nothing Doing in London. The book compiles poems from Norse's years in Italy, Paris, Athens and Hydra and contains photos of vibratory phenomena by Hans Peter Widmer. This copy of Karma Circuit has been signed by Harold Norse but is not one of the 50 numbered and signed copies that were issued at the time. The condition is very good except for a small tear in the mylar dustjacket.