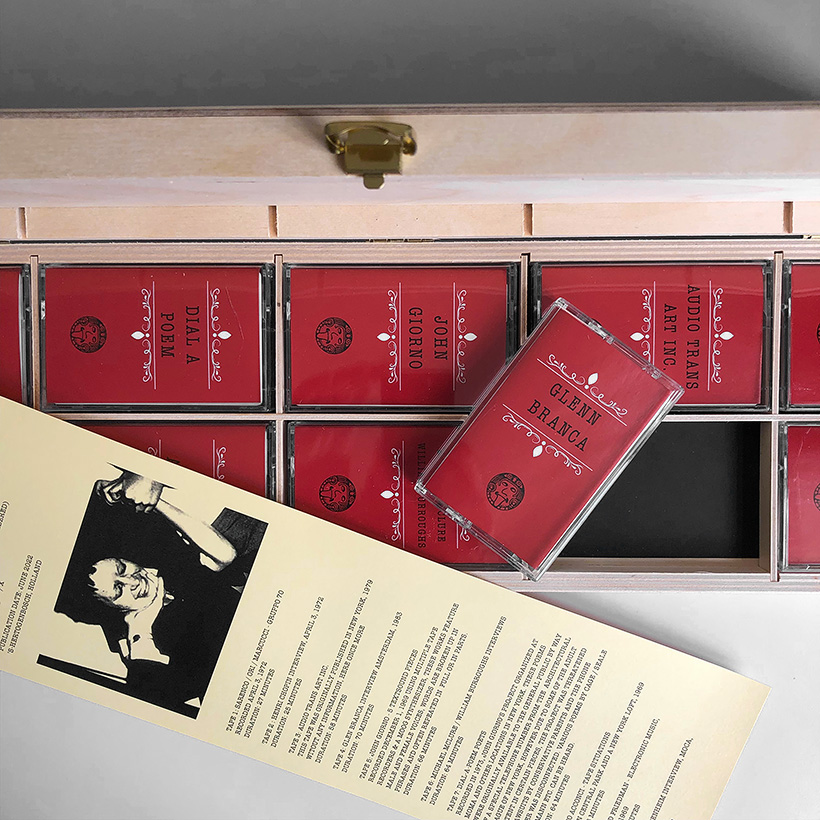 Fantastic new edition by Jan van Toorn's Slowscan:
Slowscan Vol. 52 is a collection of 10 recordings of varying length released on cassette in a hand made and silkscreened wooden box. Produced in an edition of 50 copies only (of which 10 hors commerce), this box set is an exquisite Slowscan edition and sheer collector's delight. Among other things the inserted table of contents mentions:
COLLECTION OF ABORTED, DELAYED AND/OR CANCELLED PROJECTS. FIRST AND ONLY EDITION OF 40 COPIES + 10 HORS COMMERCE. PUBLICATION DATE: JUNE 2022, 'S-HERTOGENBOSCH, HOLLAND.
TAPE 1: SARENCO / ORI / MARCUCCI – GRUPPO 70 (1972)
TAPE 2: HENRI CHOPIN INTERVIEW (1972)
TAPE 3: AUDIO TRANS ART INC. (1979)
TAPE 4: GLENN BRANCA INTERVIEW (1983)
TAPE 5: JOHN GIORNO (1969)
TAPE 6: MICHAEL MCCLURE / WILLIAM BURROUGHS INTERVIEWS
TAPE 7: DIAL-A-POEM POETS (1973)
TAPE 8: VITO ACCONCI (1969)
TAPE 9: RICHARD FRIEDMAN (1967/69)
TAPE 10: DENNIS OPPENHEIM INTERVIEW