Various artists: Ted Berrigan, John Cage, Paul Thek, Djuna Barnes, Michael McCLure et al.
Privately published, edited by Michael Andre
Year: 1977
Size: 215 x 140 x 8 mm
Pages: 144, offset printed and perfect bound
Language: English
Artwork & photography: Brassai, Paul Thek, Ray Johnson, Djuna Barnes, Gerard Malanga et al.
Condition: Cover shows slight shelf wear and a small dog ear.
Otherwise very good and clean copy.

€ 15.00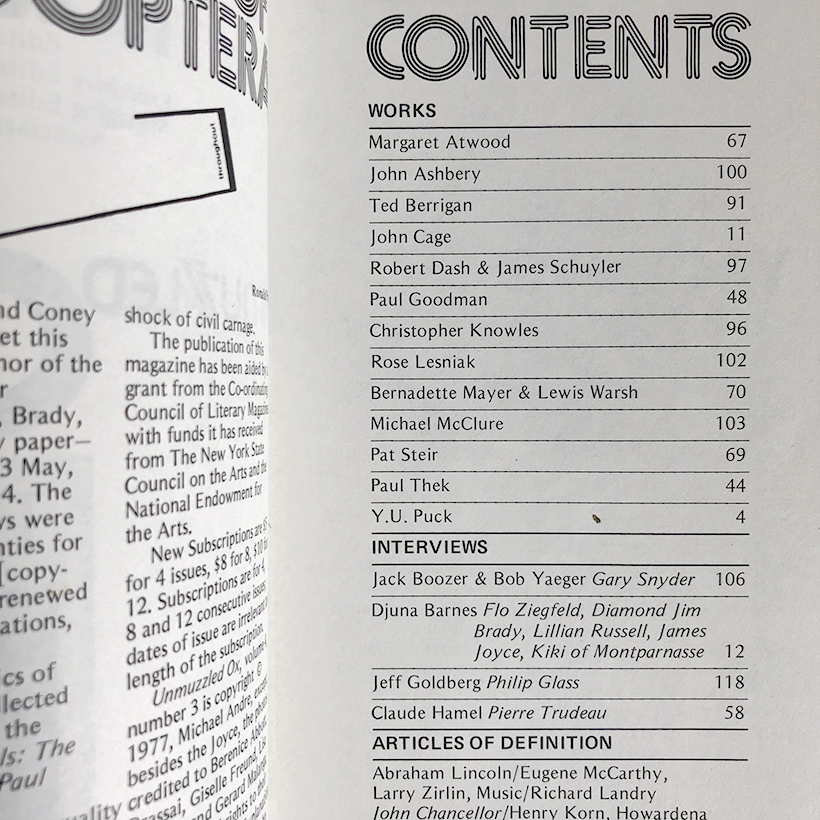 Michael Andre started his Unmuzzled OX in 1971. The quarterly, edited from New York City and Kingston, Ontario, ran for thirty years and combined poetry, art and leftist politics in a well-balanced fashion. Tapping into the US counterculture of the period, the magazine's regular contributors boasted Allen Ginsberg, John Cage, Gregory Corso and many others and often featured photos by Gerard Malanga.
Unmuzzled OX Vol. IV, No. 3 was published in 1977 and contains contributions by poets and artists as varied as Margaret Atwood, Paul Thek, Djuna Barnes and Ted Berrigan and interviews of Gary Snyder, Philip Glass and Pierre Trudeau. This copy is in very good condition with slight shelf wear to the cover and a small dog ear on the front cover.