William Levy's controversial short story RAPE was refused by many a publisher in the past, but has now finally been published by Moloko+ from Germany. And how. Combined with drawings by Scott Neary and designed by Robert Schalinski, RAPE has turned into an elegantly transgressive piece of work. Horny… yes. And paranoid… no doubt. But if you think RAPE is obscene, take a closer look at the financial supplement of your newspaper. Or should you feel Levy is revelling in conspiracy theories, feed your paranoia on the history of the Sabbatians, one of whom William Levy has chosen to be the protagonist of his story. Levy summarises his story as follows:
'RAPE is a rage-out-rapacity fable about free market cannibals devouring themselves. Wolf Filosof is irresistibly magnetic with more than a touch of Sax Rohmer's insidious Doctor Fu Manchu in method and approach. When he is not having incredible tantric sex Wolf Filosof sells stolen white children to rich Americans. It's part of his faith as an adherent of a sect believing all prohibitions are proactive commands celebrated as a holy activity. This ribald burlesque drolly develops political/porno themes of the chilling unspeakable. Obscenely funny for anyone who can take a joke…'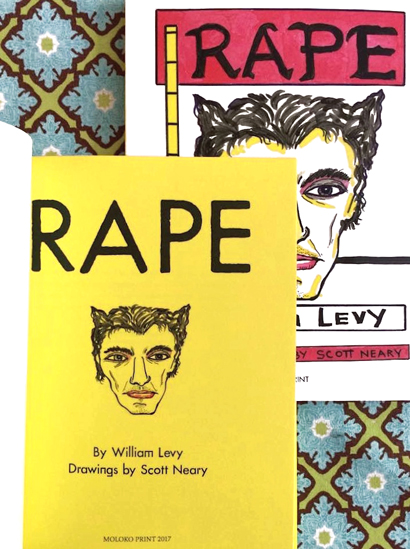 Known as the Talmudic Wizard of Amsterdam, William Levy is a poet, journalist, editor, publisher and radio maker. An American born in Brooklyn he grew up in Baltimore and has lived in Holland for almost half a century. A peek at his background and activities is available by googling 'Mutable Sound William Levy'. Films about him Online include 'William Levy: Beyond Criticism'(on YouTube), a definitive biopic, and the award winning 'Dr. Doowop'(on Vimeo). Fascinated by sedition, Levy's aim is to 'Get what's heavy off the ground.' A recent work is the vinyl LP 'Popular Teen Shot in Face by First Love', released on Slowscan.
Scott Neary's international reputation as a visual artist was established during a nearly ten year residence in the Netherlands. His arresting images of contemporary American culture fascinated Dutch critics and collectors, eager to understand the growing influence of the North American experience on universal culture. His work has been exhibited throughout Europe and featured in many prominent collections, both public and private. Neary's commissioned assignments have appeared in numerous and diverse worldwide publications. He currently divides his practice between his studio on Union Square in New York and a home in southwest France.