"For behold, I send among thee serpents, adders which cannot be charmed, And they shall bite you … ' Jeremiah, VIII, 17.
Jeremiad Chants, subtitled An Absolute Polemic, was published independently by William Levy and illustrator Peter Pontiac in 1979. With a print run of only 500 copies and Fluxus artist Willem de Ridder for a designer, this little book is a Rosetta stone of the European counterculture. Levy's seductively packaged but caustic chapters, often previously published in underground magazines, would form the core of his larger Natural Jewboy, which was to be published by Ins & Outs Press two years later and would also have Peter Pontiac and Willem de Ridder as partners in crime. 'From Slavery to Boredom', one of those chapters, is a recurrent chant of disillusionment, 'A Call for Chaos' a subversive invocation, 'Nihilism in The Netherlands' a scathing analysis of Dutch progressive and literary circles, and both 'God Help the Rich, the Poor Can Shift' and 'Crystal Night' penetrating investigations into the power of the written word. All available copies of Jeremiad Chants are in fine condition and were supplied directly by the late William Levy.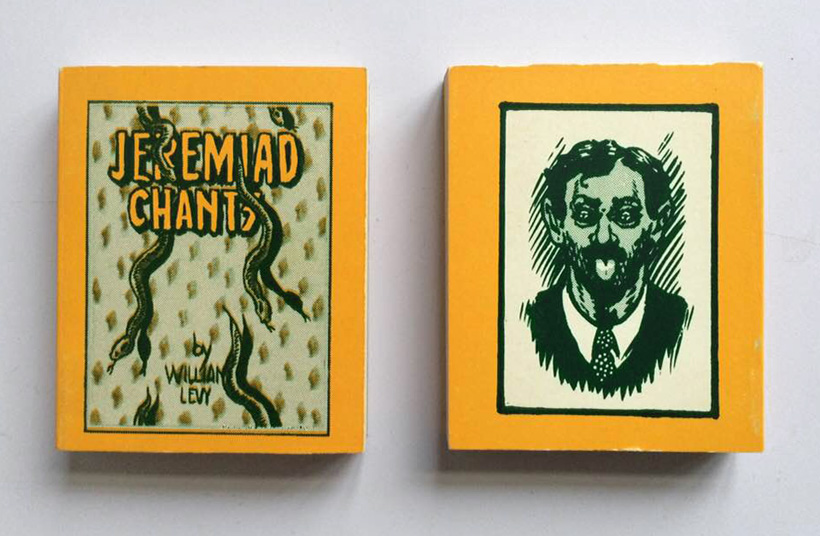 Writer, poet and gentleman-provocateur William Levy (1939-2019) was a thorn in the side of the establishment since the early 1960s. Levy settled in London in 1966; by then he had won a reputation in the literary avant-garde as founder of the 'Insect Trust Gazette', an American poetry journal that published cut-up pieces by William Burroughs and experimental pieces by Antonin Artaud, Max Ernst, Hans Arp and others. In 1970, Levy moved to Amsterdam – his activities as chief-editor of the underground newspaper International Times and as co-founder of the first European sex paper Suck vexed the British authorities. Levy's activities have included author of 'The Virgin Sperm Dancer' and 'Natural Jewboy', editor of 'Certain Radio Speeches of Ezra Pound' as well as a number of publications about Otto Muehl, works for radio, the organisation for the transgressive Wet Dream festivals and publishing poetry and prose for various presses large and small.