Author: William Levy
Publisher: Sea Urchin
Year: 2016
Size: 210 x 105 x 4 mm
Language: English
Artwork: Ben Schot
4 pages laser printed on 200 gr paper, flyleaf of blue Japanese hemp paper
Binding: Gold coloured thread pamphlet stitch
Cover: watercolour on 300 gr. Saunders Waterford
Limited and hand made edition of 30, all numbered 10

€ 15.00
Over the years Bill Levy has dug up his Jewish roots a number of times to inspect them and check their viability in the godless soil that he walks. Various pieces in 'The Fanatic', 'Exquisite Corpse' and 'Semantikon', for instance, were written to that end. Another piece, Levy's probing 'Two coordinates on a map of low revelation', was published in City Lights Review #4 in 1990. Sea Urchin has now re-published the latter text as a hand made chapbook.
Two coordinates on a map of low revelation are two beautifully written observations in which Levy reformulates the concepts of 'worship' and 'holiness'. Levy discovers genuine worship in a Jewish butcher in the Marais who is about to hack a cleaver into a side of meat, and he finds holiness in an Israeli gangster's father who volunteers to perform nether tasks in his synagogue as 'God's lavatory attendant'. 'All the ways of earth are paths to heaven', Levy quotes from Erich Gutkind in his piece on the Parisian butcher to conclude in the second piece through the mouth of the gangster's father: 'in order to make the world holy we are commanded to perform God's lowest as well as highest rituals'.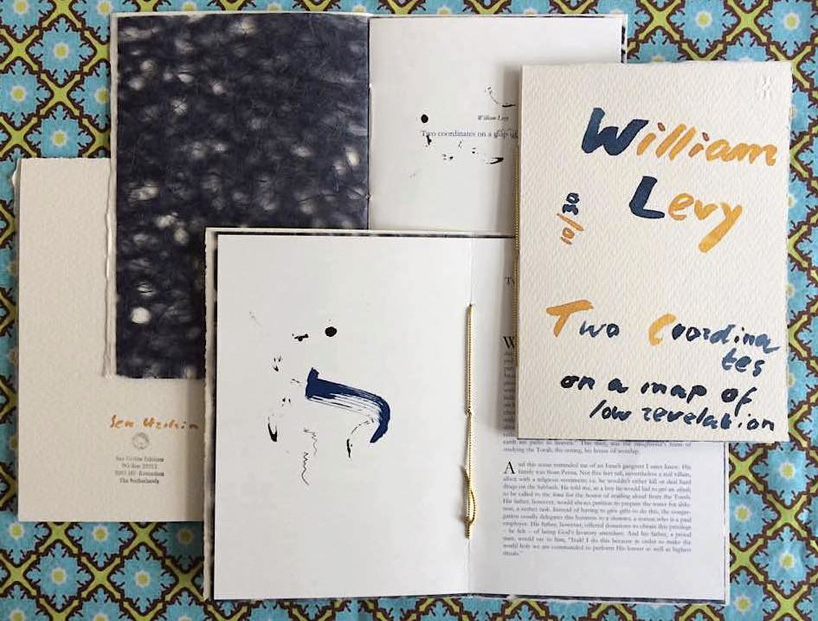 Sea Urchin's Two coordinates on a map of low revelation is a conceptual piece of work in which Levy's unconventional, almost heretic, views of worship and holiness are combined with artwork by Ben Schot. The letter Yod, the humblest yet most vital letter of the Hebrew alphabet, shines through in the design of this edition. And each copy of the 30 that were put together in this limited edition carries number 10, the numeric value of Yod. 'Two coordinates on a map of low revelation' is the pisspot we have to empty in order to be filled by golden spirit.
William Levy (1939-2019) attended the University of Maryland and Temple University and taught in the literature department at Shippensburg State College, Pennsylvania, during which period he co-founded the poetry magazine 'Insect Trust Gazette'. Levy developed into a spearhead of the European underground soon after he had left the US in 1966. As chief-editor of the underground magazine 'International Times' and the first European sex paper 'Suck', Levy found himself refused entry to England as a "thoroughly undesirable character" and a "dealer in pornography" in 1970. After having been detained in England for a week, Levy was given the choice of either going to Holland or being sent to an English prison. Levy chose the former and settled in Amsterdam, where he lived with the literary translator Susan Janssen until his death in 2019.