Author: George Bacovia
Publisher: Sea Urchin
Year: 2020
Size: 210 x 150 x 4 mm
Language: English
4 pages laser printed on 200 gr paper, flyleaf of red Thai Unryu paper
Binding: white pamphlet stitch
Cover: watercolour on 300 gr Saunders Waterford covered by white Ogura lace
Artwork & translation: Ben Schot
Limited, numbered and hand made edition of 15

€ 15.00
Gheorghe Vasiliu was a Romanian poet who named himself George Bacovia after his native town Bacau. Bacovia was born there in 1881 and distinguished himself as a talented draughtsman, violinist and poet while being educated at the Prince Ferdinand Gymnasium, now located at George Bacovia Street in Bacau. After having moved to Bucharest to study Law in 1903, Bacovia made the acquaintance of poet and critic Alexandru Macedonski, at the time the spearhead of Francophile Symbolism in Romania. Bacovia read his famous poem Plumb (='Lead') at Macedonski's salon that same year and made a huge impression on his host and his literary acolytes. Bacovia's star was rising in Bucharest, but suffering from bad health and depressions he had to return to Bacau and only finished his Law studies at the University of Iasi in 1911, when he was already 30 years old. Instead of becoming a lawyer, Bacovia held various jobs at literary reviews, offices, schools and ministries, from which he more than once had to resign because of his failing health and depressions. Bacovia was committed to sanitoria several times during his lifetime. Although some poems had been written more than ten years earlier, his compilation 'Plumb' was published in 1916, among them the poem Tablou de iarnă, now published in English by Sea Urchin as Winter Scene. In 1933 Bacovia and his wife permanently settled in Bucharest, where he died in 1957.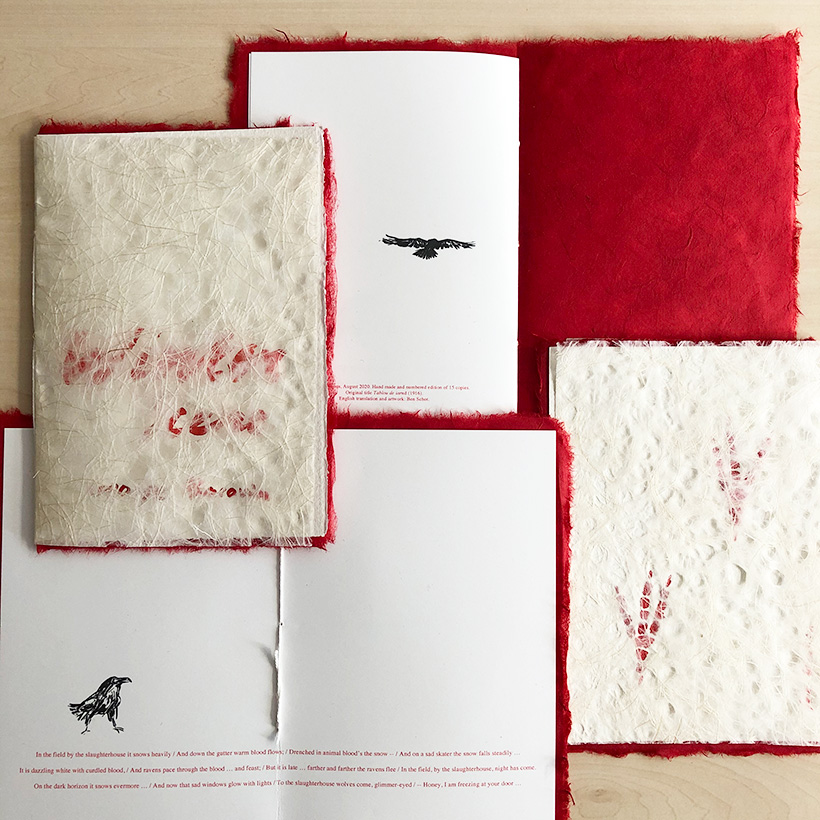 Tablou de iarnă (Winter Scene) clearly shows influences of Bacovia's hero Edgar Allan Poe, whose works had reached him through Baudelaire's translations. As the morbid wintry landscape described in the poem turns whiter and whiter with snow, the blood running from a nearby slaughterhouse attracts Poe-esque ravens and wolves and the protagonist, cold and fearful, finds himself knocking at his lover's door…
Winter Scene has been published in a limited hand made edition of 15 copies only. English translation and art work: Ben Schot.