Author : Georg Trakl
Publisher : Sea Urchin
Year : 2016
Language : English
Artwork & translations : Ben Schot
4 pages laser printed on 200 gr paper, flyleaf of Japanese hemp paper
Binding : Brown yarn pamphlet stitch
Cover : ink & watercolour on 300 gr. Saunders Waterford
Limited, numbered and hand made edition of 15

€ 15.00
Georg Trakl (1887-1914) grew up as the sixth of seven children in a well-to-do protestant family in Salzburg, where his father made a living as a hardware dealer. His mother was addicted to opium and had a disturbed relationship with her children. The upbringing of Georg and his younger sister Grete, with whom he developed an intimate relationship, was left to a young Alsatian woman. The governess, Marie Boring, acquainted the Trakl children with French language and literature and introduced Georg to the poetry of Rimbaud, Verlaine and Baudelaire. They made a lasting impression on the nervous and sensitive boy. Georg first tried his hand at his own poetry as a 13-year-old student at grammar school, an education which he failed to finish and had to abandon in 1905. By then he was already experimenting with all sorts of drugs: opium, morphine, ether, barbiturates, alcohol and nicotine. Georg's subsequent apprenticeship at a Salzburger pharmacy gave him access to an even wider range of drugs and soon he and Grete, who had developed into an exceptionally talented pianist, found themselves immersed in all sorts of intoxications, which coloured Georg's growing literary output and pushed his relationship with Grete into the realm of incest.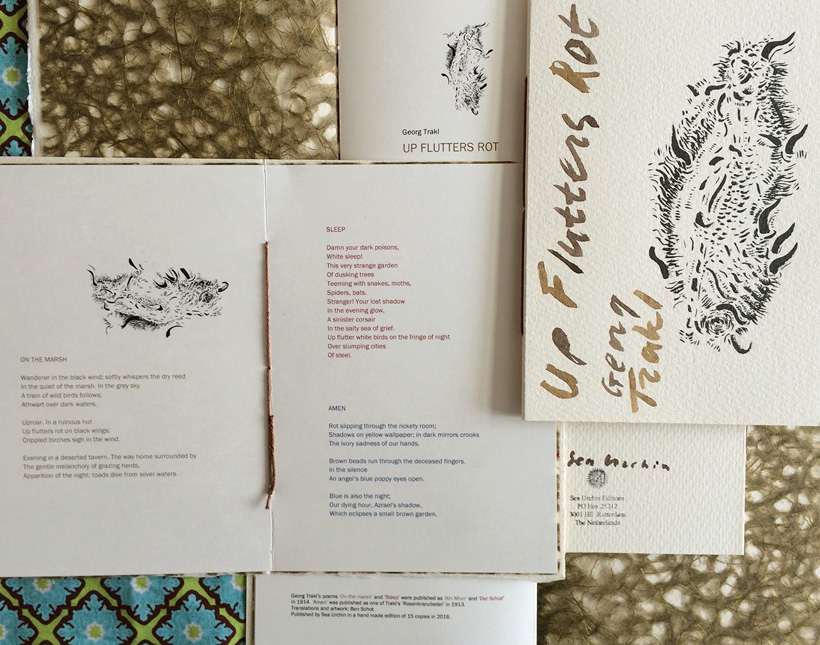 After the death of father Tobias in 1910, the Trakl family landed into financial problems. Georg had to sign up as an army pharmacist in Vienna for a year, while Grete moved to Berlin, where she married the 34 years older publisher Arthur Langen. After having failed to set up his own business as a pharmacist, Georg focused on his poetry, which still showed influences of French symbolists but also paved the way for the later expressionists. Trakl saw his works published in Ludwig von Ficker's renowned magazine 'Der Brenner' from Innsbruck, and made the acquaintance of important people of the Austrian avant-garde circles, among whom Oskar Kokoschka. Ludwig Wittgenstein was so impressed by Trakl's original, hallucinatory and groundbreaking work that he awarded him a grant that allowed the poet to concentrate on his work without financial worries. Soon after that, however, World War I broke out and Trakl, being a pharmacist, was sent to the eastern front as a medical army official. There he suffered from bouts of depression and after having witnessed the hanging of civilians and being in charge of many horribly wounded soldiers after a lost battle in Gródek, Ukraine, he suffered a nervous breakdown. Trakl killed himself with an overdose of cocaine. His sister Grete shot herself a couple of years later.
The Sea Urchin chapbook 'Up Flutters Rot' brings together three of Trakl's finest later poems in new English translations. 'Sleep' and 'On the marsh' were both published in 1914 and 'Amen' (one of Trakl's 'Rosary Songs') one year earlier, in 1913. The poems have been laser printed on 200 gr paper in the colours brown, red and blue and are combined with a b/w illustration by Ben Schot. The flyleaf of this handsome edition is Japanese hemp paper and the cover (with hand drawn title and illustration) is 300 gr Saunders Waterford watercolour paper. A brown yarn pamphlet stitch binds the papers. 'Up Flutters Rot' takes you to the heights and depths of Trakl's brilliant, nervous and intoxicated mind.