Author: Ann Radcliffe
Publisher: Sea Urchin
Year: 2017
Size: 210 x 105 x 4 mm
Language: English
4 pages laser printed on 200 gr paper, double flyleaf
Binding: orange pamphlet stitch
Cover: watercolour on 300 gr Saunders Waterford
Artwork & design: Ben Schot
Limited, numbered and hand made edition of 15

€ 15.00
The Arras is a passage from the early Gothic novel 'The Romance of the Forest', first published in 1791. Its author, Ann Radcliffe (1764-1823), is ranked among the pioneers of the genre. In her novels Radcliffe developed the technique of the 'explained supernatural', which had a strong influence on Edgar Allan Poe, Marquis de Sade and Sir Walter Scott and was mimicked by Honoré de Balzac in his early novel 'L'Héritière de Birague' (1822). By means of the 'explained supernatural' technique every seemingly supernatural event is eventually traced back to natural causes without disrupting the suspense of the story. Ann Radcliffe's work can be seen as a blend of Neo-Classical rationality and Romantic passion.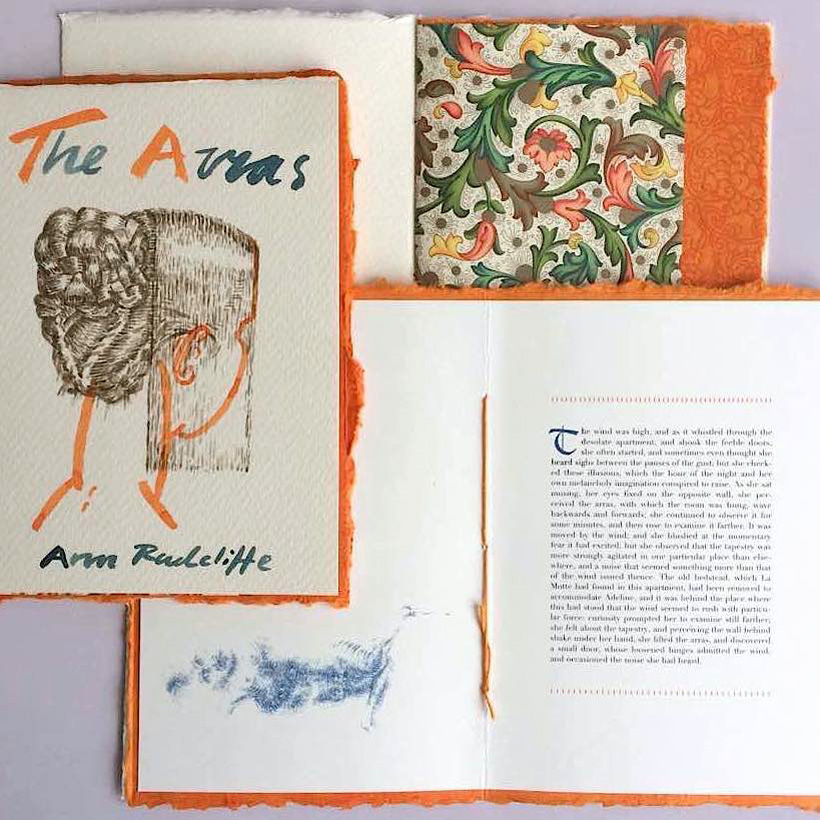 Ann Radcliffe, whose private life was so uneventful that Christina Rossetti abandoned her attempt at writing a biography for lack of information, wrote her novels for women. They hold a quiet rebellion against the patriarchal society of her age. Her heroines sigh, weep, tremble, faint and suffer injustices and abuse at the hands of brutal masters, but invariably emerge triumphant. In 'The Romance of the Forest' Radcliffe's heroine Adeline narrowly escapes a succession of misfortunes and cruelties to find herself bequeathed a considerable legacy in the end.
'The Arras' – almost a homophone of 'The Heiress' – is an example of Radcliffe's 'explained supernatural'. In this passage sight, hearing and touch are mobilised to evoke a sense of alarm and fear, which the heroine manages to overcome and explain away. But although the room in which the passage is set is scrutinised sensorily, no description is given of its central piece: the Arras, the tapestry whose unknown surface – traditionally the bearer of idyllic, heraldic, historical or biblical scenes – turns out to hide the entrance to another, more physical world.
Samuel Taylor Coleridge about 'The Romance of the Forest': 'The attention is uninterruptedly fixed, until the veil is designedly withdrawn'. And Ed Sanders about 'The Arras': 'Just as I was following it closely, and the door was discovered, then poof, it ended! I wanted more and more!'