Various artists
Publishers: Ins & Outs Press/Sea Urchin
Year: 1980/81 & 2014
15 b/w postcards of photos by various artists in a handcut jacket,
limited and hand numbered edition of 20
Jacket size: 155 x 110 x 7 mm

€ 15.00
Eddie Woods and Jane Harvey launched their Ins & Outs postcards series in 1979. The b/w series, which shows works by artists who also contributed to Ins & Outs magazine at the time, immediately met with acclaim. And with good reason: Ira Cohen's "Bandaged Poets" photos were published as Ins & Outs postcards (they were part of the larger Bandaged Poets project, a "living poem" which documented the making of masks of poets and artists by Caroline Gosselin). Other photos and collages by Ira Cohen were published by Ins & Outs, among which a defiant portrait of Gregory Corso after a reading at Kosmos, Amsterdam, 1979. Of Diana Blok & Marlo Broekmans a photo was printed from their intimate and influential "Invisible Forces" series (1978-1981). Eddie Woods himself documented in b/w photographs the Ins & Outs bookstore, his private life, and squatters and rioteers in the streets of 1980 Amsterdam. And Don Snyder's now famous 1973 double-portrait of Gerard Malanga and Angus Mclise was printed as a postcard as well. The Ins & Outs postcard series ran until 1981.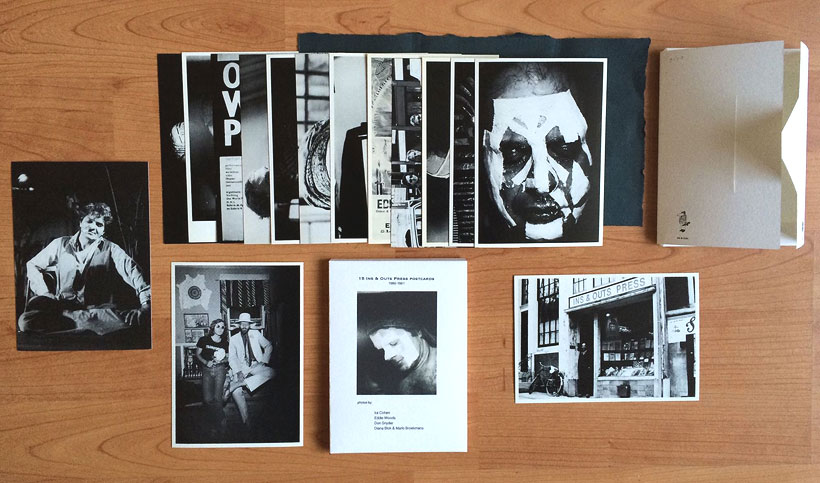 A total of 35 different cards was published, some of them now long out of print.
From the still available postcards Sea Urchin and Ins & Outs have put together a fine selection of 15 different cards. This set of b/w postcards (standard size of 150 x105 mm) comes wrapped in Japanese hand dipped paper and packaged in a paper jacket (Fabriano Accademia 200 gr), of which only 20 only copies were cut and numbered by hand. Don't miss this beautiful edition!
The set of postcards consists of: 9 Bandaged Poets photos by Ira Cohen (Allen Ginsberg / Michael McLure / Gregory Corso / John Cooper Clarke / Simon Ortiz / Jules Deelder / Brion Gysin / Ron Padgett / Simon Vinkenoog), the "Eden Hashish Centre" and a portrait of Gregory Corso both by Ira Cohen, the Ins & Outs bookstore and "San Fran Porn" by Eddie Woods, a photo by Diana Blok & Marlo Broekmans and one by Don Snyder.