Yannis Livadas is a contemporary Greek poet, born in 1969. He is also an editor; essayist, translator, of more than fifty books of American poetry and prose; an independent scholar with specialization on modernism, beat literature, postmodernism and haiku. He is also a columnist and freelancer contributor to various literary magazines, both in Greece and other countries. His poems and essays have been translated in eight languages. He lives in Paris, France.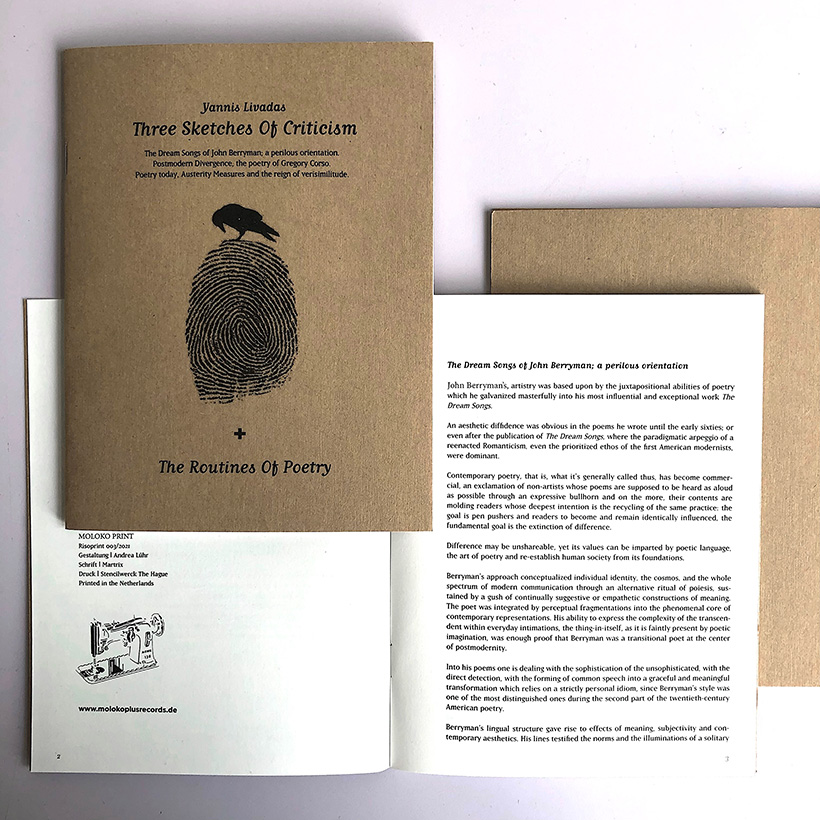 Livadas's Three Sketches of Criticism + The Routines of Poetry brings together four short essays written between 2006 and 2017: The Dream Songs of John Berryman; a perilous Orientation, Postmodern Divergence, the Poetry of Gregory Corso, Poetry today, Austerity Measures and the Reign of Versimilitude and The Routines of Poetry. The four essays have been compiled as one of Moloko's risographed chapbooks, which are printed by Stencilwerck, The Hague.
The four essays disclose part of Livadas's concept of poetry. According to the author the essays are "based on the reprioritization of the absolute impossibility of poetry; of poetry as the maximal difference, in total antithesis to the contemporary epidemic of poetic psychology and ideological poetics". Livadas's original use of the Greek language normally makes his critical works hard to translate, but this handsome edition offers the reader four fine translations provided by the author himself.