Authors: Oliver Harris (essay) & William S. Burroughs (poetry)
Publisher: Moloko Print, Schönebeck, Germany
Year: 2017
Size: 240 x 140 x 7 mm
Pages: 88, offset printed and perfect bound
Language: English & German
German translation of Harris's essay : Pociao
Artwork & Design: Robert Schalinski

€ 20.00
The Poetics of Minutes to Go, published in Germany by Molok+, is a valuable and beautiful addition to the studies of the cut-up works of William S. Burroughs. Bringing together an expert essay by British academic and Professor of American Literature Oliver Harris and a strong compilation of Burroughs' cut-up poems, the edition highlights and scrutinizes Burroughs's cut-up poetry as it was published in 'Minutes To Go' (done in collaboration with Brion Gysin, Sinclair Beiles and Gregory Corso in 1959), Floating Bear #24 in 1962 and a small number of later publications.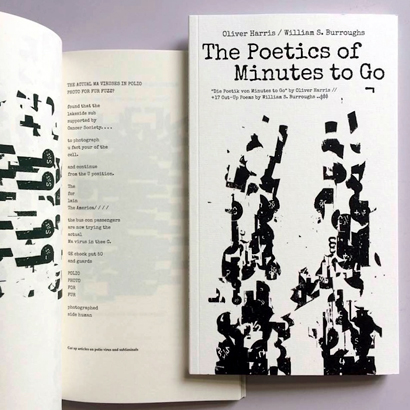 Harris touches upon the postwar Parisian rive gauche where Burroughs and Gysin internalised and popularised existing dada, neo-dada and deconstructionist techniques. But he also credits their originality in re-inventing these techniques, which in the hands of Burroughs led to hard-core cut-up experiments that broke ground not only for himself but for many other authors to follow. Burroughs' seemingly casual cut-up poems retain an experimental and brazen deconstructionist quality that is often lost in his cut-up novels. Moloko Plus and Oliver Harris did well to shed light on those.
In this edition Burroughs' cut-up poems are handsomely combined with 'Permutations & Interferences' by Robert Schalinski, who took care of the design as well, while Pociao added an excellent German translation of Harris' essay. What a beautiful book this has become.