Author: Richard Brautigan
Publisher: Moloko Print, Schönebeck, Germany
Year: 2019
Size: 185 x 140 x 15 mm
Pages: 194, offset printed and perfect bound
Language: German
German translation: Günter Ohnemus
Illustrations: Frank Diersch
Design: Thomas Müller, BueroTM

€ 20.00
Postage & packing not included
Sombrero vom Himmel is Moloko's German translation of Richard Brautigan's Sombrero Fallout: A Japanese Novel. The novel, first published in 1976, follows three storylines that interact, entwine and hilariously spiral out of control. One storyline follows the hero, a heartbroken comedy writer, who has just discarded the opening sentences of a new story and finds himself tormented by memories and fantasies of a former Japanse lover. The second story line follows the Japanese lover, sound asleep and dreaming of her deceased father with a cat purring by her side. And the third elaborates the writer's discarded story about a black sombrero that has miraculously fallen from the sky and has landed in an American town, where its appearance arouses strong feelings that culminate in a full-blown riot.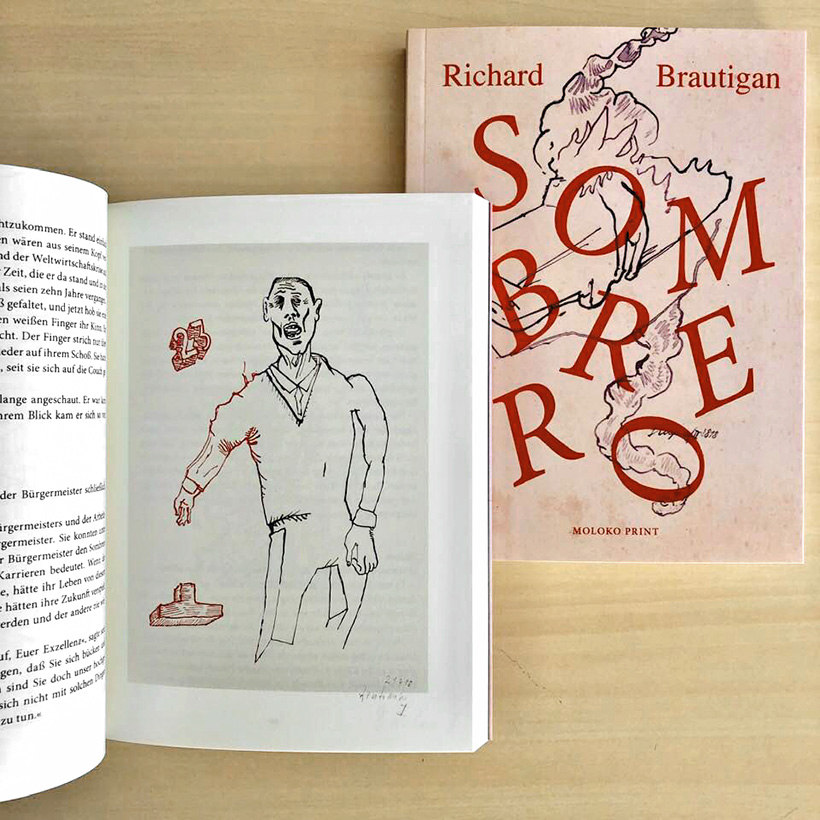 The novel flits from one storyline to another and develops in slow, circular motions into an absurd tale about… yes, about what? About next to nothing, actually: a single hair that brings back haunting memories of a lost lover, a purring cat that triggers dreams in a sleeping woman, an icy sombrero that somehow gives rise to scenes of gross but hilarious violence. Brilliant descriptions, but what are they? Does all this only take place inside the hero's mind? Are these neurotic fantasies and fears whirling across the paper? Or what? Only the mysterious sombrero – cold and immobile at the heart of the story – knows.
Richard Brautigan (1935-1984) is best known for his 1960s novels Trout Fishing in America (1967) and In Watermelon Sugar (1968). Unable to repeat the success of these books despite brilliant later novels such as Sombrero Fallout, Brautigan became embittered, depressed and heavily addicted to alcohol. In 1984 Brautigan put a .44 magnum to his head and took his own life at the age of 49. Sombrero vom Himmel has been illustrated by German master Frank Diersch, whose drawings not only help visualise Brautigan's novel but form a fascinating story themselves.