Georg Heym's 'Der Dieb' is the second time that Moloko Plus combines Heym's prose and drawings by Ben Schot. And just like in Georg Heym's 'Kurze Prosa' – published by Moloko Plus in 2016 and also designed by Robert Schalinski – the combination is a powerful brew.
Inspired by Baudelaire and his translations of Edgar Allan Poe on the one hand and Friedrich Nietzsche and early expressionism on the other, Heym's tales in 'Der Dieb' are supremely grotesque and dark to the extreme. And all of them written in an evocative style that builds up to absurd climaxes and erupts in apocalyptic scenes of violence. 'Der Dieb' – first published posthumously in 1913 – consists of seven tales: 'Der Fünfte Oktober', which is a wild ride on mob sentiments, 'Der Irre', a psychopath's celebration of freedom, 'Die Sektion', a sigh of love from the autopsy table, 'Jonathan', the ecstacies of pain during a hospital romance, 'Das Schiff', a cat-and-mouse thriller with the Black Death aboard, 'Ein Nachmittag', the first dagger of love in a young boy's heart, and 'Der Dieb' itself, in which a religious and mysogynist maniac triggers his personal apocalypse. All of them ruthless and beautiful tales, combined with nine of Schot's drawings, wrapped around the tales to fit them in atmosphere rather than illustrate them.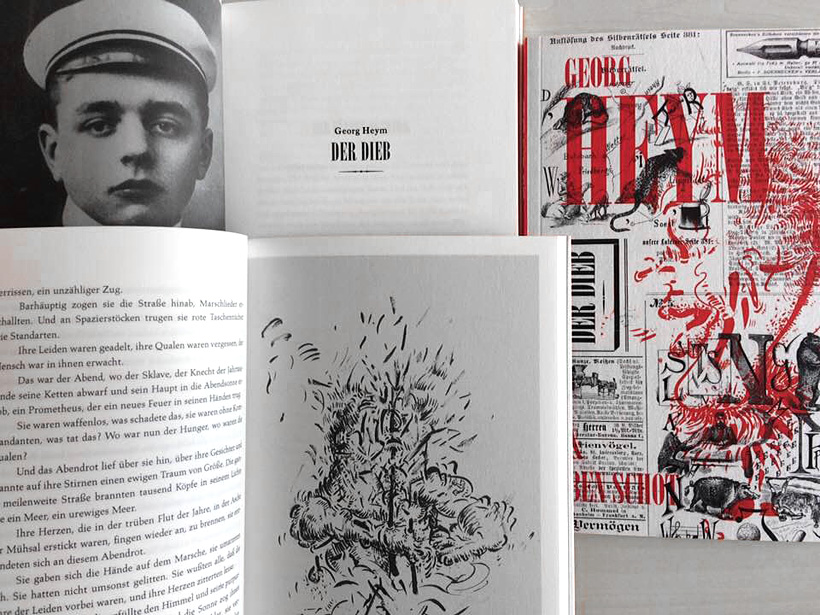 Georg Heym (1887-1912) was a German writer and poet who counts as a talented representative of early literary Expressionism. His short life was characterised by all sorts of conflicts that sprang from his highly individual and rebellious nature. In his poems, plays and short prose pieces he found ways to express his individuality, give free rein to his imagination and mercilessly cut down everything he rebelled against in the bourgeois milieu he grew up in. A decisive moment in his development as a poet and writer was the foundation in Berlin in 1909 of the Der Neue Club, a circle of radical students and young artists that would develop into a germ cell of literary Expressionism. In 1910 he joined the club, which included Kurt Hiller, Jakob van Hoddis and Karl Schmidt-Rottluff, and found recognition in that circle. But only two years later Heym, 24 years old, drowned during a skating trip on the river Havel when he tried to rescue his friend Ernst Balcke, who had fallen through the ice and drowned as well.