Florian Günther was born in East Berlin in 1963. Formally trained as an offset printer, Günther did odd jobs such as gravedigger, construction worker, and pizza delivery boy, before finding his feet as a writer, photographer and publisher. Günther used to be singer in the Eastern German punk band Klick & Aus, co-edited Floppy myriapods, a Berlin based magazine, and has published his own magazine Drecksack – Lesbare Zeitschrift für Literatur from Berlin since 2010. "I was born in 1963 in the East Berlin district of Friedrichshain", Günther once explained, "and I have lived there since, only a couple of hundreds of yards away from the hospital where I first saw the light of day and opposite the graveyard, where I will end in a shallow grave with the epitaph: it took him a lifetime to cross the street."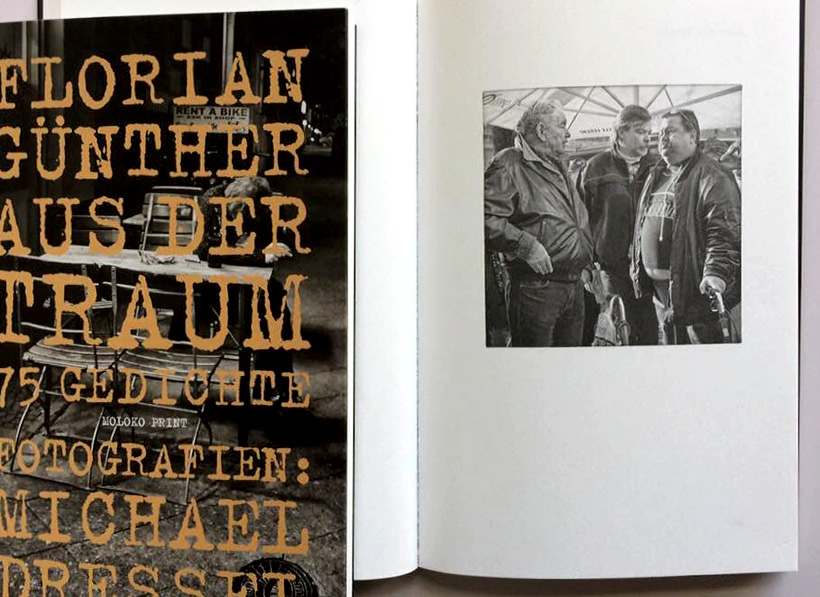 Michael Dressel is also from Friedrichshain, where he was born in 1958. At the age of 23 Dressel tried to escape the German Democratic Republic, but was caught and sentenced to two years in a house of correction in 1981. No sooner had he finished doing time there, than he escaped to the West again, this time successfully. After a brief stay in West Berlin he moved to Los Angeles in 1984, where he has worked as a sound editor for many Hollywood productions since. During all those years Dressel has been active as a painter and a photographer of life on the streets both in the US and Europe.
Moloko Plus brought together Günther's poetry and Dressel's photography in 'Aus der Traum' in 2017. The book combines 75 of Florian Günther's poems with 43 street photos by Michael Dressel. This book is as streetwise as it gets. The dream is over. Raw power is laughin' at you and me.