Artist: Todd Tamanend Clark
Label: No Basement Is Deep Enough,
Belgrade/Antwerp #30
C60 cassette plus triangle-shaped insert
in hand made leatherette pouch with a strand of hair extension attached to it
Total running time: 49:43
Year: 2014
Size: 120 x 150 x 20 mm
Limited and hand numbered edition of 85

€ 12.00
Todd Tamanend Clark (1952) is a Native American outsider musician and composer from Pennsylvania who started to record music in 1975. Clark formed the band 'The Eyes' a couple of years later and released their psychedelic album 'New Gods: Aardvark Through Zymurgy' in 1977. The Eyes evolved into The Todd Clark Group, who released the album 'We're Not Safe' in 1979. Clark adopted a more experimental and electronic approach to music in the early 1980s and released his solo album 'Into The Vision', with guest appearances of Allen Ravenstine (Pere Ubu), Cheetah Chrome (The Dead Boys) and William Burroughs in 1984. In the same period he drew more and more inspiration from his native American heritage and added the name 'Tamanend' to his own (Tamanend having been a 17th-century chief of one of the clans that made up the Lenni-Lenape nation in the Delaware Valley at the time Philadelphia was established).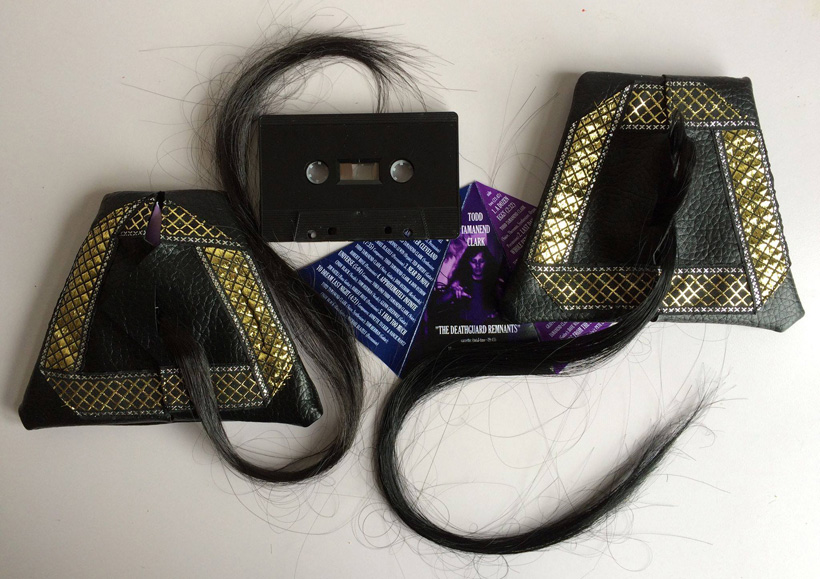 In 2014 No Basement Is Deep Enough produced a cassette which is a partial re-issue of Todd Tamanend Clark's 'A Death Guard Sampler', released on 8-track cassette in 1976 and credited to Todd Clark & The Stars. Most songs on No Basement's release were recorded in 1975, two were recorded in 1979. Clark's music in the 1970s has been aptly described by Justin F. Farrar as 'electro-psychedelic glam-rock' and 'unique fusion of wild 60s-style experimentalism and proto-new wave synth-freakery'. Early musical influences include The Mothers of Invention, The Doors, The Electric Prunes, Jimi Hendrix, and especially the early adopters of analog synthesizers such as The United States of America, Lothar and the Hand People, and Silver Apples. Other influences include proto-punk bands The Seeds, The Velvet Underground, The MC5, and The Stooges.
No Basement Is Deep Enough has packaged their wild and psychedelic cassette in a hand made trapezoid leatherette pouch with a strain of black hair extension attached to it. Inside the pouch a nice triangular fold-out insert with track list can also be found. Sea Urchin distributes the very last copies of this mind-blowing release.