Band: The Local Moon
Label: tapetopia & aufnahme + wiedergabe, Berlin
Year: 2022
Cassette release containing the band's 1987 cassette + their 1988 7″ vinyl
Hand numbered edition of 100
Artwork: The Local Moon, Teun Hocks, Francesco Clemente and Helmut Obst
Liner notes: Henryk Gericke

€ 12.00
tapetopia is a series of releases based on cassettes from East Germany's 80s underground, particularly from the East Berlin 'Mauerstadt' music scene, featuring original layouts and track lists. For over 30 years after their initial "release" the music on these tapes was neither available on vinyl nor CD, but they were important statements in the canon of the GDR subculture. Despite the miniscule number of original cassettes in circulation at the time many of the bands were popular in countercultural circles, a factor that made them highly suspect among the government's own inner circles. tapetopia is run from Berlin by Henryk Gericke.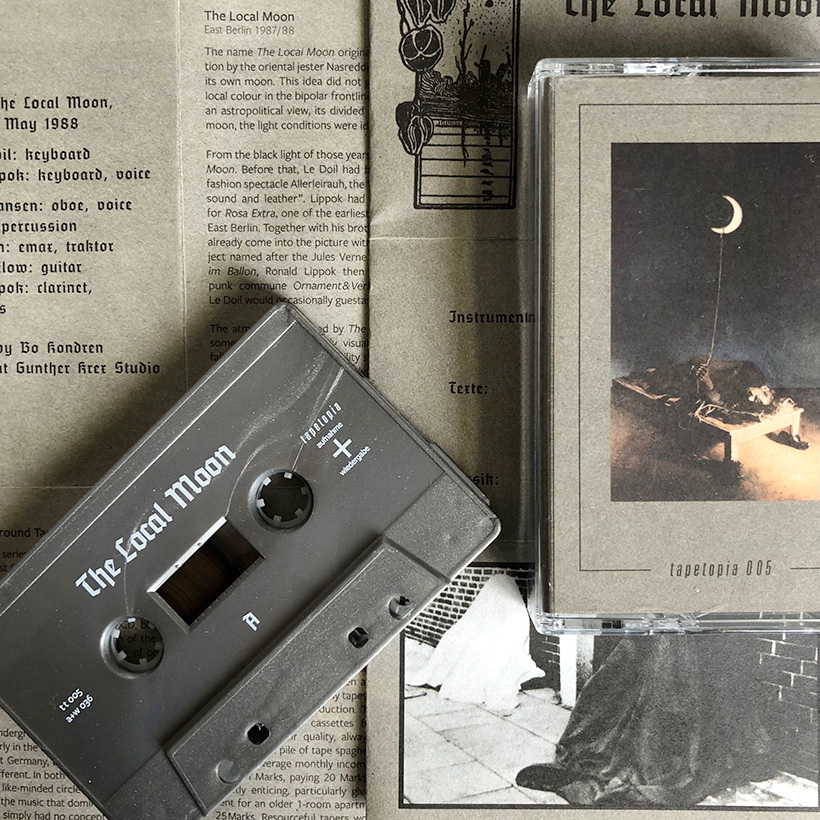 The Local Moon lit up in 1987 and '88 in the scene around the legendary East Berlin underground band Ornament & Verbrechen. Ronald Lippok had previously played drums in Rosa Extra, an early GDR punk band, then founded Ornament & Verbrechen. René Le Doil was active in East Berlin's nonstate-approved fashion and performance scene, and with Ornament & Verbrechen he occasionally played organ. In 1987, The Local Moon released an elaborately designed tape in an original edition of only 50 copies, which then found wider circulation in musician and literary circles. In 1988, the project recorded a 7″ EP. 400 copies of the single were pressed in Hamburg, West Germany, but it was "released" in East Berlin. 100 copies of the edition appeared as an insert in a literary samizdat. This EP was not the first illegal vinyl record in East German subculture, but it was the only one released in the GDR and below the censorship radar. (from the liner notes by Henryk gGericke)
The two original Local Moon releases have now been combined on cassette by tapetopia and aufnahme + wiedergabe accompanied by extensive English liner notes by Henryk Gericke not only on the band and its releases but also on the broader historical background of underground taping in the GDR.