Artist : Takehisa Kosugi
Label : Slowscan, 's-Hertogenbosch, The Netherlands
Slowscan vol. 44
Year : 2019
Black 12" vinyl in offset printed sleeve
Name card : George Maciunas
Design : Johnny Van de Koolwijk

€ 25.00
This recording orginally appeared on cassette as part of the Slowscan Fluxus Anthology box set in 1994. About the recording Takehisa Kosugi wrote:
The music was performed by myself, solo, recorded live at my former apartment in New York City. For this performance I used:
– Pre-recorded environmental sounds (birds in the city of Ferrara, Italy)
– Live broadcasting sounds from W.EBS radio, New York
– A plastic bottle in which a small microphone was installed for picking up sounds of my voice and other sounds
– An audio generator for electronic sounds
– Sound effectors including a time/delay machine and pitch shifter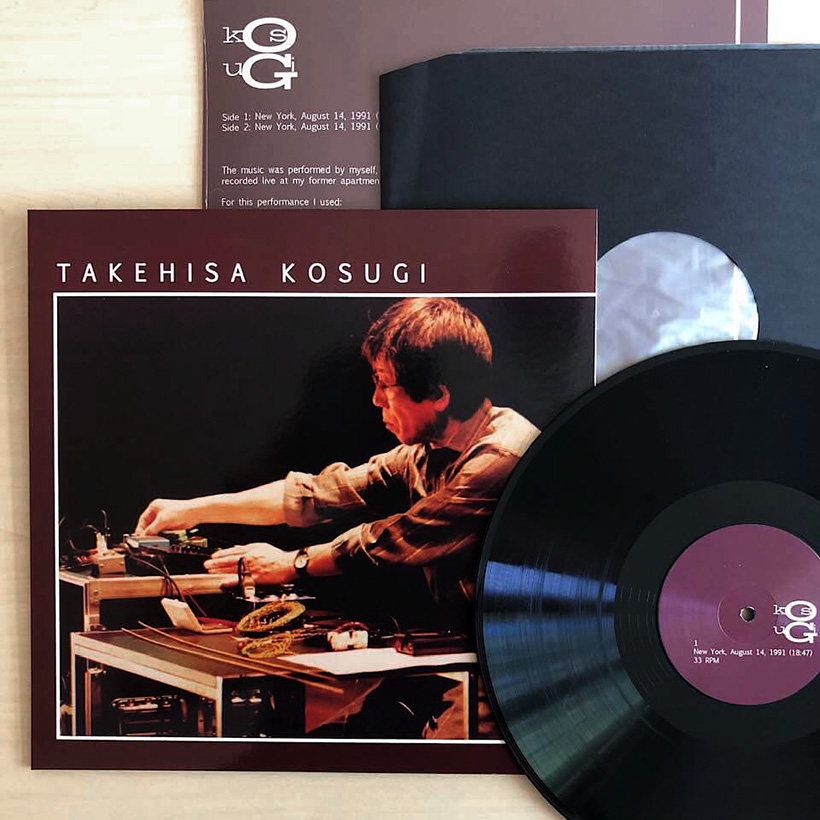 Takehisa Kosugi (1938-2018) was a Japanese composer and violinist. Kosugi studied ethno-musicology at the Tokyo University of the Arts, from which he graduated in 1962. Influenced by his professor Fumio Koizumi, the Italian Futurists and Pierre Schaeffer, Kosugi broke away from his classical training in 1958 and formed the seminal Group Ongaku with six other musicology students while still at university. The group's Concert of Improvisational Music and Sound Objects in September 1961 was witnessed by Toshi Ichiyanagi, who had studied under John Cage in New York. Ichiyanagi sent recordings of the group to George Maciunas, who not much later announced that the "complete works of Kosugi" was available via mail order for the price of two dollars. From that moment Kosugi had been incorporated in Fluxus. Kosugi himself moved to New York several years later, in 1965, but earlier his works were included in Maciunas's Fluxus 1 and various Fluxus performance programs. Kosugi collaborated with Charlotte Moorman and Nam June Paik and formed the legendary Taj Mahal Travellers (1969-75), whose itinenary to the Taj Mahal led to various recorded and released concerts in Europe. Kosugi's primary instrument was the violin, the sound of which he sent through various echo-chambers and effects to create unique drone-like music.
Kosugi received grants from The JDR 3rd Fund in 1966 and 1977 and a DAAD fellowship grant to reside in West Berlin in 1981. Kosugi received a John Cage Award for Music from Foundation for Contemporary Performance Arts in 1994. Beginning in 1995, Kosugi served as music director for the Merce Cunningham Dance Company, and lived in Osaka until his death in 2018.